How to Watch The Haunting of Hill House
The month of October preludes the Halloween season signalling the time of the year when horror movies and TV shows become something to look forward to.
Giphy
After watching the series, I must say that more than being a horror TV series, it really is a family drama wrapped in goth. With the intent of watching The Haunting again, I am sharing with you a few tips on how to watch it for the first time.
1. Spoilers must be avoided at all times.
One of the strengths of any film or book is the journey to the ending. For a horror drama, much more is at stake when it comes to spoilers. Avoid Facebook and mute mentions on Twitter about The Haunting and TRY not to search for the ending of each episode.
2. Do not watch it before going to bed.
If you want a good night sleep without the nightmares, I suggest that you not watch The Haunting before sleeping.
Inspired by real-life paranormal investigation, The Haunting was first adapted into a film in 1963 by Robert Wise and later on in 1999 by Jan de Bont.
3. Maybe turn all the lights on.
Should you decide that you really want to watch it at night, at least turn on the lights lest you see the Bent-Neck Lady watching the series with you.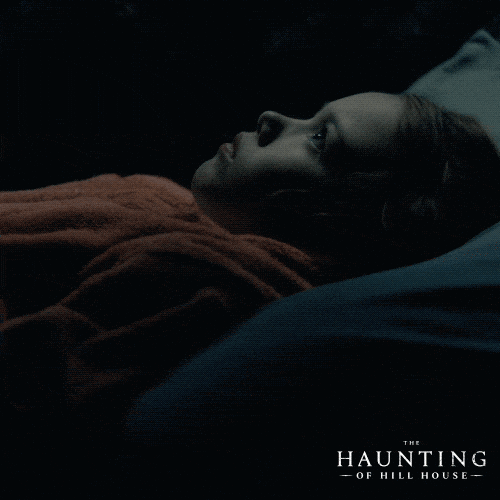 Giphy
Labeled by King as "close to a work of genius," the series has a close resemblance to The Shining in such a way that both the hotel and the house are doing the haunting.
4. Stack up on tissues.
When it comes to depth, The Haunting has most gory horror flicks beat. In an interview, Flanagan mentioned how the horror audience is looking for more sophistication when it comes to the shows they love.
Giphy
Comparison between family drama This is Us and The Haunting has been said several times. However, the horror fans would definitely fall in love with how The Haunting is a compilation of snippets on love, grief, and trauma. Yes, you will shed a tear. Or bawl your eyes out.
5. Make sure you have company when you watch Episode 5 if you easily get scared.
There are a lot of excellent episodes in The Haunting, but like most who have watched it, I have certain partiality to Episode 5. This is an episode that definitely elevated the genre when it comes to plot lines and execution.
6. Brace for cuteness overload.
The relationship between twins Luke Crain (Julian Hilliard) and Nell Crain (Violet McGraw) is probably the cutest sibling interaction on Netflix. All of the Crain kids are adorable and kind and they love each other making us root for the family harder.