10 Reasons Why Wonder Woman is the Ultimate Upsize Movie Fave
The long wait is over! The much raved superhero film "Wonder Woman" is finally here.
If you are not into the comic-turned-movie genre and are probably thinking to not join the hype, let us convince you otherwise. Honestly, aside from having a strong, lovely woman for its titular lead character, there's more to this 2017 film than meets the eye.
1. Finally, a movie that really highlights the strong woman
We've seen countless of films about Superman, Batman, and their circle of heroes. And these are dominated by male characters, targeted at a largely male audience.
dailysuperheroes.com
Now, the time has come for a stand-alone superhero movie that boasts of girl power. It may have taken years, but there's finally a female superhero movie where we, non-nerd ladies, can relate and enjoy!
2. Be amazed with the wonders of the kween
…of the Amazons, that is. Gal Gadot has a face so innocent and a smile so ravishing, all while evoking a sense of danger in her natural, disarming charm. It's the perfect balance of sweet and savage.
But did you know, Gal actually served two years in the Israeli army and was a Miss Israel titleholder before — unintentionally, at first — finding fame in the world of show business?
giphy.com
Even Wonder Woman director, Patty Jenkins, thought of Gal as a "magical gift" to her and the whole DC universe enterprise. You know how formulaic Hollywood blockbusters can be. Who would've thought of finding a non-American girl for the lead role, right? Gal was simply remarkable in her performance.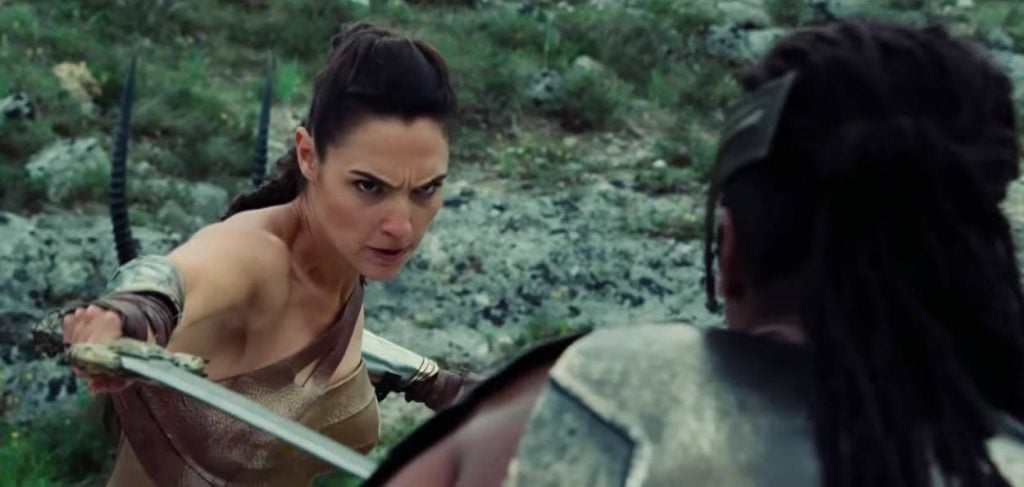 cheatsheet.com
3. The movie is a female vision and powerhouse
Patty Jenkins pitched her vision of a Wonder Woman movie a decade ago! Now, she's considered to be the first woman to direct a largely funded superhero film!
hollywoodreporter.com
4. The Amazonas
Gal Gadot is, needless to say, sexy. But she's not skinny — the type of body mainstream media would want you to strive for. Gal actually worked and trained to get extra pounds of muscle mass for her role.
The rest of the Amazonas, too, come in different shapes, sizes, even skin color. They have one thing in common, though: they're all fit. Don't you think this is a subtle way of inculcating the value of healthy living and loving our own skin, girls?
comingsoon.net
Oh, and the Amazonas of the mythical paradise of Themyscira are real-life athletes, by the way!
(IF YOU DON'T WANT SPOILERS, STOP RIGHT HERE!)
5. Chris Pine. 'Nuff said.
The on-screen romance of Gal Gadot and Chris Pine looks effortlessly saccharine; the compatibility is neither forced nor excessive. Oh, how we hope to find a man that looks at us the way Steve (Chris's role) looks at Diana (a.k.a Wonder Woman).
cinemablend.com
Ladies, I know we've been raving about how empowering it is to see a superhero movie that is dominated by our species. But that is not to say there's no eye-candy in the film.
We're in for a treat! We can ogle at Chris's, uhm, muscles (read: almost naked!) for ten seconds or moooore!
6. The punchlines are hilarious!
Sure, there are a lot of awesome action-packed scenes in this film, but the punchlines are the rare gems you may lose when you momentarily let your mind wander.
It goes from the simplistic question why women ought to hide their tummies — yas, preach self-love, sister! — to the in-your-face commentary, "Men are necessary for procreation, but for pleasure, unnecessary." *wink*
7. It shows the reality of living in a man's world
In a supposedly closed-door meeting of military officials, Diana stood her ground and asserted what she believed in, despite being looked down by the army leaders because she is a woman.
There are also instances when she's frontlining the battle and the boys are, well, standing behind. We all know how challenging it can be to live in a man's world, but Wonder Woman makes it seem so damn easy.
8. Love, in the time of war
The film is set in World War I-era London. There are elements of spying the enemies and murdering innocent lives, but unlike most action films, we see here the humanity and the heart.
Thanks to Patty's direction and Gal's acting prowess, it's as if we're looking into an immersive perspective of wars.
9. The sequels
In the film war between Marvel and DC, let's admit: the latter has been in the losing end for some time now. Previously released Suicide Squad and Batman v Superman: Dawn of Justice received bad reviews.
newsarama.com
But not this time… Wonder Woman seems to have saved the enterprise. We're definitely in for the future adventures of the Justice League.
deadline.com
10. We "believe" you deserve this movie. We all do. What a time to be alive.
The quotation marks weren't inadvertently included in the sub-head. You'll get what we mean when you see the film, finally.
youtube.com
This movie is definitely one to watch to remind you that you, woman, are strong, powerful, and wonderful.