Of Ink and/on Women: Things You Should Know If You've Been Wanting to Get a Tattoo
A few days ago, I've just gotten my very first tattoo over at 55 Tinta in Maginhawa, Quezon City and it was definitely a momentous event! I specifically chose 55 Tinta for my ink session because they have with them four of the country's great female tattoo artists: Maan, Gigie, Annie, and Elaine. All four of them have the gift of working on women and enhancing feminine art on skin.
While getting inked, I found it quite funny that I spent most of that time contemplating on the many things I thought would happen when I finally got inked. They say getting your first ink takes so much thought and anticipation and I guess that part it is quite so. However, of the many things that came to mind while the white, bzzzt noise almost lulled me to sleep for a good 25 minutes, here are a few of my musings on ink on women and ink and women:
Preps Are Important
Here's a quick list of practical things you need to know before getting inked:
DO NOT get drunk or consume alcohol 24-hours prior to getting inked. Alcohol is a blood-thinning substance which means that it will be more difficult for the ink to hold on to your skin or that the ink could fade away faster.
 
DO get enough sleep. Sure, you might be very excited or partly anxious the day before your tattoo sesh but you should really push yourself to be well-rested. Getting enough sleep means healthier blood. Healthier blood means better chances for the ink to stick on your skin.
Grab a bite BEFORE and AFTER your session. It's best not to get inked when you're hungry because your blood pressure might be low. In the same way, nothing beats fuelling after a "painful" session so don't be scared to go for a little treat after.
The Anticipation Is Worse
You've seen it way too much that it has come to deceive how you've believed tattoo shops to be: hell. Sure, the movies have shown you a bunch of intimidating thugs quietly waiting on the next drunk folk to make fun of for getting a tattoo at their shop. But more so, these are all lies.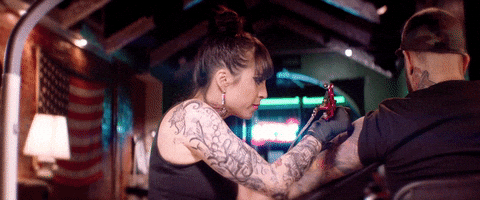 Giphy
The moment I walked into 55 Tinta, I was greeted with a group of very warm artists welcoming me in a friendlier manner than most art gatherings I've been to - which makes all the preparation for intimidation in my mind as a huge joke. Their patience to explain the process without making fun of me and more so, their honest comments on the custom design I wanted and on the place where I wanted it to be for my first were all music to my ears. It was a perfect balance of objective advice and moral support.
Next up, the pain. Sure, pain is subjective and is more likely based on one's tolerance but if you ask me, on a scale of 1 to Brazilian Waxing, getting inked is two notches below the waxing. The only thing that could make it rise a few notches higher would be if the design involves colored ink, shading, and of course, the placement.
Wild Tattoo Art
After Care and Coming Back
Another thing I love about having my ink done at 55 Tinta was that they are very thorough about explaining the procedure. This includes the after care. There's a bunch of articles online explaining this but I personally love the fact that Six of 55 Tinta told me that each healing is different because every body heals differently and that their service doesn't end with my ink. The healing process is important to them too and thus, I could just contact them anytime for follow through questions should there be any that arises––this apart from the entire talk and package I got for my after care.
The first thing on my mind while planning my first tattoo was that I would definitely make it memorable and symbolic, so much so that I would have only one on my body. The first thing on my mind after getting my first tattoo was collaborating with more artist friends who can design more art I can make permanent on my skin. Yes, that part is true: it can get quite addictive.
Here's a photo of what I had done!
Personally, the best part about my experience was that the design I had custom made isn't just symbolic and permanent but that it's one that grows with me as a person. The artist helped me with the design and went the extra mile to think of ways to help make the design even grow more beautifully as I age with it on my skin and was also very accommodating to my modifications.
I think it truly is the age where women don't just upsize in pursuing what they want to do with their own skin or bodies but to also be whoever they want to be and even become bigger people. These four women tattoo artists are living proof that women can really do great in a field that's been so falsely and patriarchally-painted by movies and media in general. This challenges me to write more about women who are able to do great in fields uncommon for us to "belong."