10 Things You Should Definitely Do If You're Solo Travelling in Kuala Lumpur
When you talk about solo travel, usually the most ideal places to go to are beach destinations or very busy and alive cities where your being alone doesn't feel as lonesome. On these places you get to meet new people, make new friends from all around the world, and just pace yourself on your own time to do whatever you want and explore everything you want to.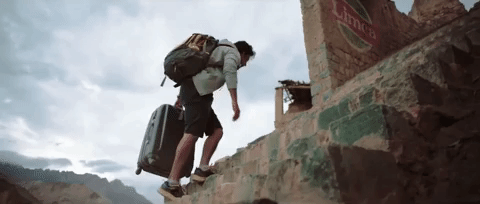 Giphy
I love traveling solo but for goodness knows why, I flew to Kuala Lumpur. Now, KL isn't exactly a very busy city (from what I realized) and I'm not quite sure but it gave the vibe of not being female-solo-traveller friendly.
Kuala Lumpur
Don't get me wrong, the place is completely safe and it's beautiful but somehow, compared to the other places I've flown solo to, KL felt pretty different. Not in a bad way. Let's just say, it was a unique experience.
If you're thinking of traversing KL alone, here are some things you should definitely do:
1. Stay in a hostel.
Hostels are generally safe. And can be a bunch of fun! You get to meet more people whom you could possibly join on a trip to somewhere or explore the streets with. It's kind of odd to be a girl walking alone the streets of KL especially since their streets are pretty much dominated by male locals.
Get a booking at Back Home if you prefer some peace and quiet and an accessible quaint coffee shop (LOKL) where you can enjoy some good food and local coffee or Reggae Mansion if you want to have an accessible rooftop bar for when you don't want to walk around and find food and drinks.
2. Book a car ride from the airport to your hotel/hostel in advance.
Our very own NAIA has a pretty straightforward layout, in my opinion so even if your first time coursing around the airport, you definitely won't get lost even if you decide to not ask for directions. I've always booked airport-hotel car rides through Klook for my travels but KL's airport however confused the life out of me. There's literally a mall (?) connected to the airport so as soon as you walk out from getting your luggage.
It would be nice to have someone pick you up from the arrival area so you wouldn't get lost.
3. Utilize your Grab app.
Malaysia is also big on using Grab and the best part of it is, their rates are even cheaper than what we have here! So a 20- to 30-minute car ride could cost you just 65 pesos. If you have points for Grab Rewards from your use of the app here, you can also apply it there.
4. Pack some loose pants and tees.
Malaysia is a muslim country and although this is the case, KL's pretty chill about the whole thing probably because they've been seeing a lot of tourists in their area. However, if you want to feel comfortable getting in their temples, make sure you have your loose pants and t-shirts ready cause you need to pay your respects and cover up. And I say bring loose pants, not jeans, cause KL is humid and warm and you wouldn't want to be covered in sweat.
5. Definitely visit the Batu Caves and climb up the stairway to heaven.
Okay, I don't know if it's actually called the Stairway to Heaven but the name's pretty appropriate for it. In case you're unaware, the Batu Caves is the famous place with the ginormous golden buddha.
On top is a bunch of little shrines and a spot where you can say a prayer and light a candle for only 3 MYR (about 18 PHP) . On the way, you'll see monkeys just... monkeying around and if you look back, you'll see a gorgeous view of the city and realize how small you are in this world (lol).
No worries if you decide to wear shorts to go here though. I did too cause I expected so much thigh sweat and chafing (sorry, TMI) so I went wearing shorts and a loose tee. There are locals renting out sarongs at the bottom of the stairs for 5 MYR (about 30 PHP) and when you return it, they give you back 2 MYR (about 12 PHP). Still so worth it. You only need to cover up if you're going up the stairs.
6. Walk the entirety of the KL Forest Eco Park.
KL knows how to do big cities, in my opinion. So aside from the ultimately diverse segregation of the streets in their urban jungle, there are several parks where you can enjoy some fresh air and relax in the middle of the city. The KL Forest Eco Park has to be my favorite.
You will not get bored plus it's not so awkward to be alone. I walked around so much that I swear at least 4 people asked me how to get out of the park. There's a canopy walk you can also do inside and on the end is the famous KL tower. Be amazed at how huge it is!
7. Walk through Chinatown and its nearby streets.
Chinatown, as per my Klook driver, is where I can get original fakes. And he wasn't wrong. Compared to our very own Divisoria, KL's Chinatown is smaller but man, there isn't any shortage on your LVs, Pradas, and Balenciagas. It's so amazing how some of the pieces even actually look like the real deal.
Be careful though cause some sell makeup too. I guess I shouldn't warn you not to purchase fake make up cause you're an adult enough but don't buy fake makeup in Chinatown. There's a Sephora store in KL and you can do all your makeup shopping there.
Also near Chinatown is Central Market where you can buy all of your pasalubongs for cheap plus they have good food!
8. Speaking of shopping, drop by Pavilion.
Pavilion is this giant ass mall that's like Greenbelt but 3x bigger. You'll get lost trying to find where to even start going. It's literally a very, very big mall packed with restaurants and a good mix of luxury and mid-luxury goods.
If you're not up for some make-it-rain shopping though, just cross the road from Pavilion and go to Fahrenheit. They have factory outlet clothes you'd shop-til-you-drop for.
9. Walk along the Masjid Jamek lookout point to Merdeka Square and see the River of Life.
Okay. Honestly, there's nothing so crazy amazing about these areas but just that it's something you should see when you're in the city.
Malaysia's sun sets a bit later than the one in Manila so at 7pm, it's still pretty bright outside unlike what we have here so I liked hanging out behind the Central Market (close to the Masjid Jamek area) during sunset, in front of the River of Life, and witnessing the moon and the sun showing up at one time. It's a magical experience.
10. Appreciate, stay in the moment, and make sure your visit drops on a Sunday.
I'm leaving this for last because this is probably the single, most important thing you should do in KL. Trust me, you can see all the temples, shop at all the shops, and see the sights on the streets in just two days. There's not much to do unless you're a really slow walker but it's not something you'd most likely be doing there.
I made a few friends during my visit and we talked about trying some local, authentic Malaysian food. But we always end up asking ourselves, what even is Malaysian? Their country has a very abundant mix of Chinese, Indian, and Thai that you can't even exactly pinpoint what "Malaysian" means unlike when you say Korean, then you know what local, authentic Korean is. Perhaps Malaysian is just the mix of it all.
Stay in the moment and learn how to appreciate because the wander of KL happens right before your eyes. I say make sure your stay covers a Sunday cause if you're keen enough to observe, you'll notice how different their usual everyday lives are compared to what goes down in Manila. Men flock their markets on Sundays to shop for meat and vegetables. You almost won't find a woman in sight. They have different societal norms that can be very interesting because despite not knowing the full history of their nation, their average, ordinary everyday will give you a slight taste of it and you'll know more about their stories.
From this I realized that hey, their slogan is pretty much accurate. Malaysia IS truly Asia.
All in all, mind yourself when solo traveling wherever you may go and take that opportunity to live in the moment and witness a new world in front of you. Listen to the stories of the locals and don't be afraid to wander.