Fun Bonding Activities You Can Do With Mom This Mother's Day Season
A special time of the year is coming soon for our dear Mothers with hearts of gold, take some time off your busy schedule and celebrate the day with your favorite female in the world. It's time to start something new and bond over new experiences and here are some activities that could get you started:
Pottery
Learn the art of modeling clay into beautiful pots and decorative ornaments with your mother by your side. This hobby is both relaxing and therapeutic enough to relieve the tension that comes with everyday life and who knows you might get some inspiration by letting your creative side out to mold clay into wonderful things.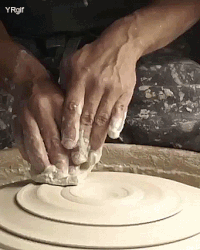 Giphy
The Magis Creative Studio in Muntinlupa offers pottery classes. Check out their website here and also on Facebook.
Painting
The subtle art of painting is one of the most popular hobbies to venture into, with just a few strokes and paint you can create a new generation masterpiece that you and your mother will be proud to hand up in your home. Painting is a great escape when you need some peace and quiet in this noisy world filled with hectic days of hustle and bustle.
Give Sip & Gogh a try! They have several branches across Metro Manila where you can enjoy wine and cheese while creating artwork. Check out Sip & Gogh on their website and on Facebook.
Running
Relationship goals are reaching the same goal together and fitness goals with dear mom is a great way to achieve shedding off the excess pounds. Getting your fill of regular exercise helps us feel happier and accomplish during the days and even more help us bond by sweating off the stress that plagues us. Giphy
Yoga
Truly a masterful art of achieving inner peace and releasing the tension in your muscles. Yoga not only improves our physical wellbeing but also our mental and spiritual health too. Discover how to unwind with mom using this delicate yet impactful exercise.
Pinterest
Try doing yoga with Urban Ashram. They have special packages you can choose from that fits you and your mom best. Check out Urban Ashram on their website and on Facebook.
Baking
Everybody loves food and it brings people closer together and growing up is there anything better than mom's home cooked meals? This time around embark on a journey with her to create delectable and mouth-watering desserts and pastries that will surely be a hit with your family and friends. Plus, you can just do this in the comfort of your own home!
Shutterstock