A Tale of Two Palettes
The most frequent question I get about these two palettes, which are very popular on social media is: How do you use them?
Strictly speaking, the Hourglass Ambient Lighting Palette and theBalm Manizer Sisters aren't highlight-and-contour palettes. Rather, they are palettes that each contain a blush, a highlighting powder and a bronzer.
I would say the two palettes are similar. One is more expensive than the other. But the inexpensive one isn't really cheap.
I have both and here is what I think of them.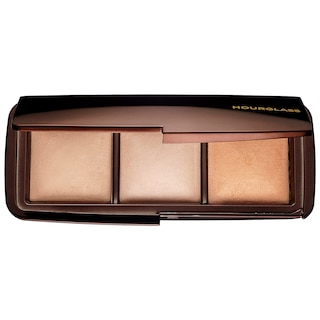 hourglasscosmetics.com
This palette contains three of Hourglass' Ambient Lighting Powders. These finely milled powders that can be used in different ways, depending on your skin tone.
Dim Light, the one on the left, is a neutral peach beige that is more of a finishing powder than a highlighter. You apply it after you're done with your foundation. On its own, without any base, Dim Light doesn't do much but over foundation, it really give your face that lit-from-within look.
Incandescent Light is a pearl powder that works as a subtle highlight. If you're looking for Instagram highlight levels, this isn't it. This gives a discreet and low key highlight.
Radiant Light is a golden beige bronzer that gives a subtle warmth to morena skin. Those with pale skin should use this with a light hand.
This palette is pricey, considering the amount of product you're getting. But if you make good use of it, like I do, then you're getting value for your money.
This is $62 at Sephora.
thebalm.com
This is one of my favorite palettes because from the packaging to the contents, it will surely make you feel good. Some people think that feeling good because of makeup is ridiculous but, trust me, it is a legitimate feeling.
Mary-Lou Manizer is a golden champagne with warm undertones. This is a highlighter that really tells people "I am wearing highlighter today!" It's out there but maybe not Bretman Rock highlight levels.
Cindy-Lou Manizer, a peachy pink with shimmer, is a light blush that needs to be built up. I don't know if it is just my skin tone but this was my least favorite of the three powders in the palette.
Betty-Lou Manizer is the most versatile of the three powders. It can be used as a bronzer and an eyeshadow.
This palette is not only cute but well-priced. I would recommend it to anyone looking for a mid-priced lighting and bronzing palette.
You can get this for $28 on their site.