How To Look Your Best Without Breaking the Bank
Expenses are on a high this season and you find yourself overwhelmed by the amount of gifts you got for everyone in the family, your circle of friends, and for the office that you end up with almost nothing to get yourself something nice.
But you, beautiful social person you, somehow managed to have your calendar booked with lots of dinners with relatives, friends, classmates, and colleagues that you still want to look your best. You've got tons of clothes in your closet that could clothe a whole village like it's Fashion freaking week for sure so no need to get you new ones (since you know, you're already kinda broke).
Take note of some of these simple and easy tricks to still make you look sleek and sharp for all your social events this season with just the things that you have at home.
Iron Your Clothes
instyle.com
Lay off on the excessive use of fabric conditioner to make your clothes softer. You probably haven't ironed much this 2016 so why not give it a go this time?
The secret to the beautiful clothes you see mannequins wearing in stores is that they get ironed or steamed. We're hoping you know how to do this. Just smoothen out the wrinkles and creases on your clothes. This is 100% guaranteed to make you look chic and crisp.
Wear Moisturizer
Most likely, you'll either be spending dinner in some cold venue or outdoors which can leave you looking dry and tired especially if you're just heading on that get together after a long day. Slap on some moisturizer on your face to have that glowing skin all day. No need for major retouches!
We use Nivea, if you're super dry, or Clinique, for combination skin, for this but if you already feel good with the one you have, that should be fine.
Wear Lipstick with a Popping Color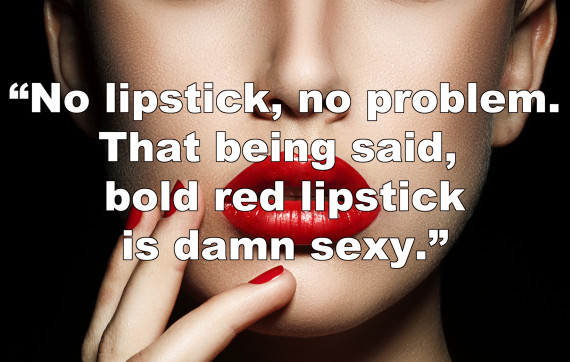 huffingtonpost.com
It should come to no surprise that wearing lipstick with a popping color not only changes your mood but also your whole look. No need to put on heavy makeup. Just make sure your eyes are on fleek and then put on that beautiful shade on your puckers to lively up your look.
Wear Your Cutest Trusted Heels
justthedesign.com
High heels may be inventions of men to make women run away slower (a feminist thought) but they sure were made to make women feel more confident as well. We need to emphasize on wearing your cutest and most trusted heels especially for a long night of mingling. You may end up wearing a simple top and jeans but this look will totally be put together with some sophisticated heels.
Check out if your style icon has an ensemble you can steal! We also curated some awesome looks on our Pinterest for #fashioninspo.
Wear a Statement Piece
fashionfademagazine.co.uk
You probably have an awesome statement piece just lying around your closet waiting for its time to shine. This is it! Give your clothes a go and unleash your fashionable side by fearlessly wearing one to get your look together.