Sunday Candy on a Wednesday Night: Taking a Chance at Chance the Rapper Live in Manila 2018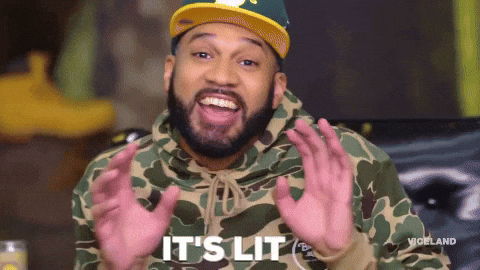 Giphy
Last 22 August, the Mall of Asia Arena was jam-packed with a crowd that was ready to belt out his bars as early as 6PM for his 8PM event. The merch line was long, the entrance was just as long, and the expectations for his performance was high. Everyone was hyped for him even during Jess Connelly's opening act.
Chano did not disappoint.
Chancelor Bennett, aka Chance the Rapper, opened not just with his smashing crew but also with fireworks, trippy visual backgrounds, and music that fed the soul. He opened with "Mixtape" and had the entire arena pumped with energy.
What made it even more momentous was how Chance finally got what most international performers love about going to the Philippines: the crowd support. When he performed "Blessings", which was just the second song on his set list, even he couldn't stop himself from just drowning into the crowd's voices. Everyone knew the lyrics and were proudly singing their lungs out.
This was his entire setlist:
He mentioned thrice that it was his first time to visit the Philippines and that he couldn't help but be overwhelmed by his Filipino fans. When he performed "Workout" and the crowd sang the bars with him, he shared with everyone that it was actually just his third time to perform it and was therefore astounded with the fact that we were singing with him. It was even cuter when he apologized for not having visited the country sooner. Truly, another one for the books for both crowd and performer.
To cap the memorable night off, people chanted "Sunday Candy" over and over until Chance himself spoke into the microphone and said, "I heard a request." The crowd roared until he closed with "Blessings 2", bringing everyone not just to church or to a crazy praise dance that lasted for a couple of hours but also to a soulful, healing musical experience made even more hopeful when he promised to come back to the Philippines again.