Experience the Best of Japan in Kyoto
If you have to choose one city in all of Japan, pick Kyoto. This is a place where quiet meets excitement and adventure meets the contemplative. Home to 1.4 million residents and to 20 percent of Japan's national treasures, Japan's seventh largest city is definitely a must visit.
Running out of things to do in this city where more than 50 million tourists visit every year is simply improbable.
315 miles southwest of Tokyo, Kyoto was once the capital of Japan for about 1,100 years, and with 1,650 Buddhist temples and 400 Shinto shrines this city remains the country's cultural center.
Here's a rundown of activities and places you shouldn't miss as you discover Japan's quiet gem.
1. Gaze at the beautiful view from Kiyomizu-dera.
Tucked in the Higashiyama mountain range, and halfway Mt. Otowa is one of Kyoto's most revered temples which covers more than 130,000 square meters. Founded in 778, this 1,200-year-old Buddhist temple of the Kita-Hosso sect was included in the UNESCO World Heritage list in 1994 as one of the Historic Monuments of Ancient Kyoto. Surrounded by mountains, the view from the Kiyomizu Stage of the Kiyomizu-dera is a delight to behold especially during spring and autumn. Before you enter the Main Hall, however, make sure you check out Tainai-meguri first.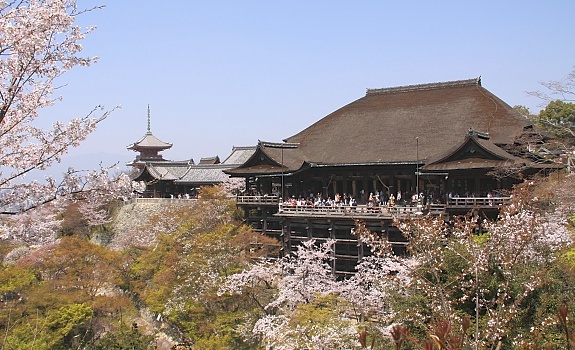 Japan Guide
This is something that any visitor of the temple must experience. There's a free wish for anyone who dares to brave the darkness. The temple opens at 6 a.m. and closes at 6 p.m.
2. Snap photos of the glorious Kinkakuji and Ginkakuji.
There are two temples in all of Kyoto that just stand out. The Kinkakuji, known as the Golden Pavilion for its top two floors are completely covered in gold leaf, is found in northern Kyoto amidst the Kitayama mountain range.
Kinkakuji Temple / Japan National Tourism Organization
Built as a retirement villa for the shogun Ashikaga Yoshimitsu, the ostentatious temple had been burned several times, and the current structure was rebuilt in 1955. Riddled with temple gardens and a pond where visitors usually throw coins, then make a wish, Kinkakuji is a must-not-miss place. For 400 yen, you can visit the temple from 9 a.m. to 5 p.m.
Ginkakuji / Lonely Planet
In eastern Kyoto, in the Higashiyama mountains, is another Zen temple that sought to rival that of the Kinkakuji, the Ginkakuji. This Silver Pavilion, built for the shogun Ashikaga Yoshimasa, is a place of great beauty where you can find numerous moss gardens, a well taken cared of sea of silver sand, and several temples. With an entrance fee of 230 yen, getting to the Ginkakuji is also a delight since you can reach it by foot by walking along the Philosopher's Path.
If you will visit Japan during the autumn or the spring season, the Philosopher's Path will most likely be one of your favourite places in all of Kyoto, and you'll not be alone in thinking that since this two-kilometer path is also one of the most famous cherry blossom viewing spots in Japan.
Travel Caffeine
It was said that the path got its name because one of the country's most famous philosophers, Nishida Kitaro, used to practice meditation during his walk to Kyoto University as a student.
The entertainment district of Gion hides a place where old Japanese customs and traditions live. Here is where walking tours thrive. If you want to spot a geisha, stay in a ryokan, dine in expensive restaurants, and visit a hostess club, Shin-bashi is where you want to be.
Totororo.roro / Flickr
Somewhere in southern Kyoto, in the holy Mt. Inari, you'll experience a trek you won't forget. For two to three hours, you'll walk along the path shaded by thousands of orange torii gates.
JW Web Magazine
Built for the Shinto god of rice and sake, Inari, the Fushimi-Inari taisha shrine should be a part of your to-visit list when in Kyoto. Apart from the picturesque 5,000 torii gates, you wouldn't want to miss the dozens of fox statues, said to be Inari's messengers, scattered in the shrine.
In the western outskirts of Kyoto lies a well-known paradise. Crowded during the cherry blossoms and fall color seasons, Arashiyama is at its most beautiful during early April and mid-November. The best way to roam around this touristy district is via bicycle, which you could rent near the train station, or via walking. Some of the places that you shouldn't miss when you visit are Togetsukyo Bridge where a taking a photo is a must, the famous Kyoto bamboo groves, the Monkey Park Iwatayama, cradled in the Arashiyama mountains, where a 15-minute walk would bring you to an open field where monkeys can roam around freely.
Inside Kyoto
For 550 yen the Monkey Park also gives you a magnificent view of Kyoto. Missing Arashiyama is like missing the essence of Kyoto.