Top Destinations on Our 2017 Travel Bucketlist
The start of the year is the perfect time for most people to plan their travels for the rest of the year. Schedules, destinations and budgets are each carefully taken into consideration so that these few vacations become a reality.
We've listed down some of the places on our bucketlist that we'd like to visit this 2017:
Japan
Famous for its cherry blossoms, the best time to visit Japan would be around the months of March to May when it's spring time and the weather is just right. Known as hanami in Japan, the Cherry Blossom Festival has become one of the most popular events in the country.
WHERE TO GO: Tokyo where you can take a selfie at Shibuya Crossing and Hakone where you can experience sleeping in a ryokan and enjoy a dip in one of the hot springs.
WHAT TO TRY: Attend a tea ceremony in Kyoto, try out a kimono in Kanaza, and visit snow monkeys at Jigokudani Monkey Park.
South Korea
onthegotours.com
No matter the season, South Korea is always a great place to visit according to tour guides. Depending on what you would like to experience or see, there's never a bad time to go to South Korea. Spring is the most crowded season when weather is perfect and the cherry blossoms are in full bloom. Summer is alright, autumn is awesome to witness the natural beauty of the country and winter is amazing with lots of snow-related activities and less of the tourists.
WHERE TO GO: Visit Jeju Island, which happens to be South Korea's only natural UNESCO Heritage Site and the Changdeokgung Palace known for its beautiful secret garden.
WHAT TO DO: Dine at Imun Seolleongtang, Seoul's oldest restaurant which serves dishes from its menu that is at least 110 years old. Immerse yourself in a night of culture as you watch Jump, a South Korean comedy that has gained recognition around the world.
Also, don't forget to check out Paju Outlet for super sale luxury brands!
London
timeout.com
The home of Sherlock Holmes, The Beatles, Doctor Who, and Harry Potter. Life wouldn't be complete if we don't get to visit this beautiful, culturally-rich place. Seeing a different view of a city life by indulging in the busy streets of London, listening to crisp-accented conversations, and eating fish and chips is definitely one for our books this year.
WHERE TO GO: The London eye, Westminister Abbey, The Stonehenge, Harry Potter World, etc. etc!!!
WHAT TO DO: Sightseeing and definitely experience a ride on one of their double-decker buses. Try the best fish and chips at Haddocks and Chips at Southend-on-sea. Make a British friend (cause why not).
Thailand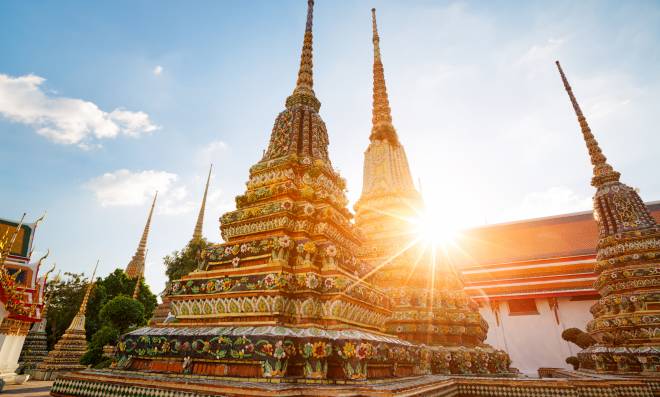 onthegotours.com
The best time to visit Thailand will actually depend on which part of the country you plan to go to. Either way, you're sure to enjoy.
WHERE TO GO: Bangkok is the place to be if you want to experience the hustle and bustle of Central Thailand and go shopping, too. Visit Chiang Mai if you just want to explore Thailand's natural beauty.
WHAT TO DO: Shop at a floating market where different types of produce and wares are sold; best to check it out early morning before the tourists flock. Check out the Siriraj Medical Museum where the truly bizarre exhibits include giant testicles and mummified corpses.
Come by BKK this coming 13 to 15 April and celebrate Songkran (Thai New Year)!
Bali
berlin-enjoy.com
Okay, let's settle something for once - the Philippines is paradise when it comes to beaches and beautiful landscapes but that doesn't mean we don't lust over Bali's own version of the heaven we always want. The nest of beautiful temples and colorful culture, we just can't wait to relax under the sun on a Balinese beachfront hotel while sipping on refreshing cocktails and swim on Bali's clear blue waters.
WHERE TO GO: Kuta, Lovina, and Uluwatu because these areas are near the water which means sure beachfront accommodations and less hassle in heading to the beach in case you're itching to chill and swim.
WHAT TO DO: Swim, chill, and breathe! Bali is heaven and is the perfect place to relax. Main agenda when we get there is live on a new reality and forget about stress basically.
Cambodia
travelandleisure.com
We're actually very lucky to be located in one of the most beautiful and colorful continents in the world. Asia is huge and amazing that a lot of backpackers head on here to see our picturesque views.
Cambodia is definitely one of the top destinations on our 2017 travel bucketlist because of its wonderful temples and interesting history. It is filled with complex architecture that tells several stories about its history.
WHERE TO GO: Angkor Wat, Siem Reap, Phnom Penh, and Bayon. Basically each of the temples in there.
WHAT TO DO: Immerse in Cambodia's interesting culture by feeling a total goddess vibe in their temples. Go on a food adventure and try Fish Amok and anything Khmer.
El Nido, Palawan
El Nido has been a tourist destination for quite a long time now. Because of its unspoiled natural beauty and beautiful beaches, it shouldn't be a surprise why Palawan is always on the bucketlist of travelers who then keep coming back.
WHERE TO GO: Twin Beaches of Nacpan and Calitang. Two perfectly pristine beaches to choose from that are just separated by a strip of white sand.
WHAT TO DO: Have a picnic with friends or family or climb the rock formation just at the end of the strip where you can get a better view of the surroundings.
Maria, Siquijor
The province of Siquijor has been popular for its mystical charm but unknown to many, it is also the location for several beautiful beaches. The more popular ones can be found in Salagdoong.
WHERE TO GO: Discover Siquijor's best kept secret, Kagusuan Beach in Maria. You'll need to steer away from the main road in order to get to your destination. It's all worth it, though.
WHAT TO DO: There's a marine sanctuary near the beach where you can snorkel.
Siargao
epicgapyear.com
Dubbed as the "Surfing Capital of the Philippines", Siargao is a dream come true - to both surfers and non-surfers alike. Situated at the southernmost part of the Philippine archipelago, this place boasts beautiful rock formations as well as clear, unpolluted waters perfect for an all-day swimming adventure.
WHERE TO GO: General Luna, where everything hip and fun is happening!
WHAT TO DO: Surf! Pro, amateur, or even inexperienced travellers should try it. Siargao's waters are safe plus they have super cheap surfing lessons. Get to meet fellow travellers as well and exchange travel stories!
Dumaguete
When people talk about the beautiful beaches of the Philippines, it's always Palawan or Boracay. These places are overly crowded with both foreign and local tourists and some areas are already so annoying to get to.
Nothing beats an unvisited destination which is why we greeaaatly dream of heading on to Dumaguete. Actually, you know what, we don't even have the words to describe why we are itching to get there. So just check out the video above to see why.
WHERE TO GO: MANJUYOD SANDBAR. Probably the best sandbar in the country.
WHAT TO DO: Lose yourself in the beauty of the Philippines and realize that Palawan and Boracay are not the only beautiful islands in the country. Swim and snorkel and rest. This place is just heaven.