Our 10 Favorite Fictional Dads of All Time
We love getting inspiration from books, movies, and tv shows. And as much as we swoon over the beautiful plots, we get ourselves deeply involved in the nearly-realistic lives of the characters.
For this special season, we're paying homage to our favorite fictional dads of all time. Spoilers may or may not be included in this story. Proceed with caution!
Travers Robert Goff (Saving Mr. Banks)
This heart-wrenching, based-on-real-life story tells not only of how Mary Poppins came about but more especially the life of the Goff family. Travers Goff (played by Colin Farrell) was father to Helen Goff, or P. L. Travers, the author of the legendary Mary Poppins. She looked up to him so much and loved him with all her heart.
tumblr.com
Mr. Goff taught her how to dream. He basically built the foundation of P. L. Travers as a creative writer, allowing her to imagine beyond her wildest. He died of alcoholism but his story and intense love for his daughter is immortalized in both a book and a movie forever.
collider.com
Daniel Hillard aka Euphegenia Doubtfire (Mrs. Doubtfire)
Mrs. Doubtfire was marvelously played by the iconic Robin Williams. It showed the persistence and love of a father who only wanted to care for and support his kids no matter what.
hercampus.com
Beyond all the antics and crazy outfit changes, Daniel goes to great lengths just to be with his kids and that's what keeps him on our list.
express.co.uk
Sam Dawson (I am Sam)
In spite of his mental condition, Sam (played by Sean Penn) devoted all he can give to winning custody over his daughter who is his everything. He was willing to surpass all possible challenges and trials for the one thing he loves most - his daughter.
tumblr.com
Chris Gardner (The Pursuit of Happyness)
Another story based on a real character and another tearjerker. Chris Gardner's (played by Will Smith) story is not simply about how he's reached his financial success and overcoming the challenges of a struggling stock broker. His story is also about how he tried his best to stay strong and give the best he can to his son.
storypick.com
It's very painful to watch him cry while his son sleeps so he doesn't hear or see him. The way he handled all the tough things thrown at him in life, guided and provided for his son, and succeeded amidst it all definitely makes him our favorite.
movietvtechgeeks.com
Mufasa (The Lion King)
You know what they say - if he wasn't such a great dad, you wouldn't have cried a river when he died. Mufasa (voiced by James Earl Jones) was as caring and supportive as a great dad should be. He allowed Simba to grow on his own and showed him where he stood on the pride. He let Simba explore the safari and encouraged him to build up his strength and confidence in life.
disney.wikia.com
Mufasa was not only a good father to Simba but to the whole kingdom as well. That's why all the animals love him.
geekexchange.com
Dill Penderghast (Easy A)
If you haven't watched this movie yet, please do for Dill Penderghast (played by Stanley Tucci). Looking behind the plot, you'll realize that one of the main reasons why Olive (played by Emma Stone) was able to handle her issues was because of her parents - especially her dad. Dill keeps the house open for any discussion and lets his kids share without judgment.
daddyfiles.com
He is definitely #dadinspo for those raising teens. He plays everything cool, keeps a good, full-of-humor relationship with his wife, and makes actually cool dad jokes to his kids!
dadfeelings.com
Bryan Mills (Taken)
Bryan (played by Liam Neeson) basically calls the kidnappers and is ready to haunt them down and kill them once he catches them in order to get his daughter back. And he does it for several more movies! What's to hate?
sausry.blogspot.com
Cameron and Mitchell (Modern Family)
What's better than one gay dad? Two gay dads. Cameron (played by Eric Stonestreet) and Mitchell (played by Jesse Tyler Ferguson) surely puts the "modern" in Modern Family.
starcasm.net
Their funny antics, hilariously like-real-life fights, and chemistry keeps the show rolling. The way they care for Lily (and how they spoil her, actually) makes them our favorite dads too!
krystaferry.wordpress.com
Andy's Dad (The Devil Wears Prada)
Andy's dad doesn't have so much screen time on one of our favorite movies of all time but his appearance sure stuck with us. He's probably the dad with the shortest exposure in this list.
We love him because he took time to meet Andy and personally ask her how she's been doing because they've (him and his wife) been worried about her sending emails late in the evening and not actually following her dreams. He even hands her some money to help her get started and get by without judging her or her decisions. What a dad!
Walter White (Breaking Bad)
Things took quite a crazy turn throughout the entire series but we just have to admit that Walter White (played by Bryan Cranston) definitely captured our hearts as we took pity and feared for his life for every deal he made.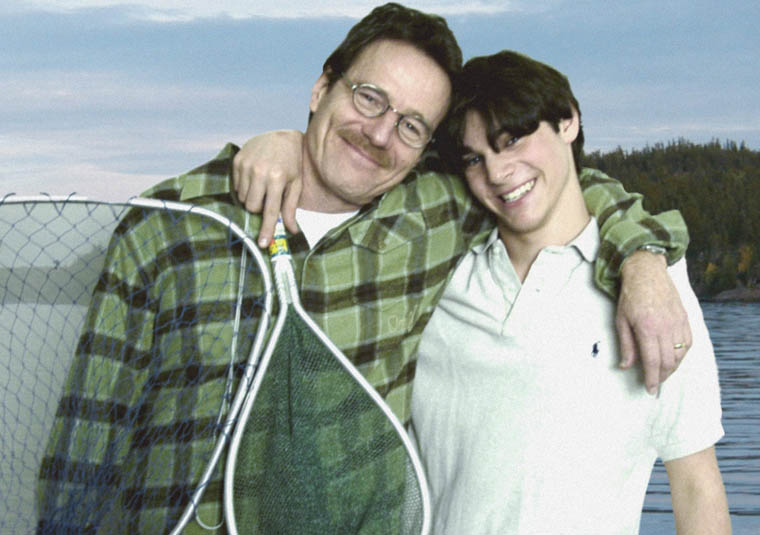 amcnetworks.com
He was sick and had no hope on how he could support his family. He wanted to care for his sick son and his wife and eventually their baby girl so he took to doing what he can do best apparently which is cooking meth. He knew for a fact that it was gonna be risky, not to mention illegal, but he did anyways because of his love for his family.
amcnetworks.com
Lord Henry Dashwood (What A Girl Wants)
If there's anything we adore, it's cool dads. And Lord Henry (played by Colin Firth) definitely fits the shoe! He was entirely in good faith in the whole movie. It was pretty much understandable when he left Daphne (played by Amanda Bynes) and her mom (played by Kelly Preston) to move back to England because he just so happened to be a wealthy British politician who tends to be a little too clueless at times.
moviepilot.com
This was a happily-ever-after movie all thanks to Daphne's efforts and, of course, Lord Henry's support. He was very uptight in the beginning because he had an image to uphold but eventually loosened up and let her daughter be the little girl he truly loves.
silverpetticoatreview.com
Post photo from disneyexaminer.com.