Lady Gaga Shows She's Born to be a Star in and with Bradley Cooper's A Star is Born
In case you're unaware, Mother Monster has been quite busy with her time being the artist and performer she has always been destined to be (probably one of the reasons why we're not getting a new album from her anytime soon).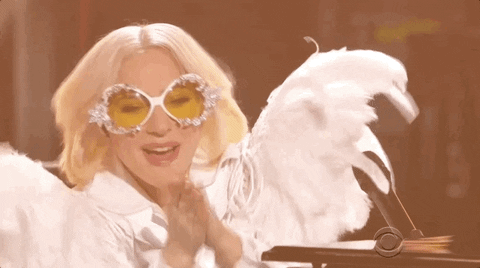 Giphy
We're finally gonna get the chance to see the multi-nominated and multi-awarded singer/songwriter on the big screen and from the video snippets of her red carpet premieres, it looks like she's already killing it.
Giphy
This time, Lady Gaga get directed by and stars alongside multi-nominated actor Bradley Cooper in A Star is Born. It is a remake of the 1937 film of the same name where a hard-drinking musician falls in love with a young singer.
She has been slaying premiere after premiere after premiere and the looks she's been giving hun omg!!!
Lady Gaga rocks her natural brunette hair (though we think she might be using a wig in the movie) for this one and we can't contain the excitement to watch her slay with her darker roots! Surely enough her voice on the songs on this movie will be just as captivating as ever.
Our hearts definitely fell out of our chests as we watch this big, international star curl in humility as she was praised and given a standing ovation for her performance in this movie.
We can all watch A Star is Born on 10 October in Philippine cinemas.