In Celebration of Marvel Movies Returning to Philippine Cinemas This October, Here's a List of Our Favorite Characters From the MCU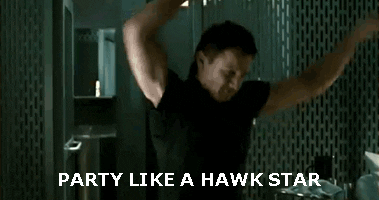 Giphy
Marvel fans assemble! To celebrate 10 successful years of Marvel Studios blockbusters, fans are going to enjoy a movie marathon treat from the 13th until the 21st of October.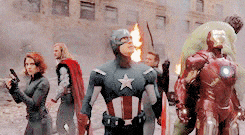 Giphy
The 16 films that span the whole Marvel Cinematic Universe will be back on the big screen. The best part is that you can watch each movie for only Php 100 each title or you can have access to all films for only Php 1,200 which includes a limited edition poster.
Here's a list of cinemas where you can enjoy the Marvel movie marathon:
· SM Mall of Asia
· SM Megamall
· SM Davao
· SM Seaside
· SM Manila
· SM Sta. Mesa
· SM City Fairview
· SM Aura
· Trinoma
· Centrio
· Glorietta 4
· Gateway
· Robinsons Galleria
· Robinsons Manila
· Robinsons North Tacloban
· Robinsons Pavia Iloilo
· Vista Daang Hari
· Vista Pampanga
· Vista Bataan
· Power Plant
· Greenhills Promenade
· Festival Mall Cinemas
· Eastwood Cinemas
Now that we've got that down, here's our favorite heroes from the Marvel Cinematic Universe. We count these particular picks as our favorites because of how perfect the actor portrayed the character in the film so much that we feel as if these actors might actually be Marvel characters IRL.
RDJ is no stranger to portraying strong characters and he does them really well but portraying Tony Stark was simply an exemption. Watching his story progress on screen makes us feel like he actually is Tony Stark.
With all the behind-the-scenes footage from the MCU films too, it seems like RDJ doesn't even do much acting because of how he embodied the character so much. There will truly be no other Iron Man than Robert Downey, Jr.
This particular Loki is probably one of cinema's most loved villain. Tom Hiddleston did a job well done breathing life into the God of Mischief that audiences everywhere have embraced him as Loki.
Even on comic cons and interviews, Chris Hemsworth (Thor) always mentions how Tom Hiddleston gets more love than he does.
His strong built, alluringly deep voice, and incomparable charm makes Chris Hemsworth the perfect Thor. Who else could even play this role properly than this Australian actor? As a protector of the nine realms, we expect Thor to be strong yet gentle and that's just what Chris Hemsworth definitely delivered.
If that name sounds familiar to you, it's because it probably is. Yes - the infamous original Hannibal Lecter is, as a matter of fact, Odin in the Marvel Cinematic Universe. Why is he number four on this list you ask?
Well, mainly because he was so good that we didn't even recognize who he was! He aged gracefully and embraced the persona as he morphed into the character that we can't imagine a better Odin than Sir Anthony Hopkins.
ScarJo is one of those actors who can play a strong-but-gentle role. Black Widow has a dark past which made her the walled-up, powerful woman that she is but also, there will always be a softer side of her which, as we saw in the movies, were powerful enough to gain control of the Hulk.
Undoubtedly, ScarJo has a sexy aura that exudes her strength and power as a woman. We can't think of a better actor to play Black Widow than her for sure.
Part of Pratt's rise to fame was thanks to his role as funny, innocent Andy in Parks & Recreation. And after he's jacked up to become a part of the MCU family, it's no doubt that he'd be making this list. Peter Quill is half human, half celestial which, we think, means that he may be buff and all but still can be a bit stupid.
Pratt portrayed the character well as he packed on the muscle and the light humor that gave the character his humanness.
Well firstly, to be completely honest, we haven't heard of Chadwick until the first appearance of the Black Panther on Captain America: Civil War but immediately, he slayed the game and won us over. The Black Panther has a very interesting storyline and a beautiful history and culture.
As a royalty, he is expected to stand firm and strong with loyalty and pride for his heritage. Chadwick simply embodied all that and now he will forever meet his audience with the Wakanda salute.
Zoe Saldana had her fair share of different character portrayals in movies. But now, we think that pretty much everyone would remember her as the green outlaw-turned-heroine and love interest of Peter Quill.
Zoe has a strong aura which makes her perfectly casted for the role of the celestial Gamora and no question with her fighting skills as well.
Captain of the Dora Milaje, Okoye is a strong, ruthless female lead who we cannot imagine being portrayed by other than Danai Gurira herself. She definitely made a name for herself as she perfectly played the role.
In fact, the casting of the whole Dora Milaje was perfect so it was totally crucial to find a powerful badass for the role of the captain.
Multi-awarded and nominated Natalie Portman has been playing several lead roles that made her deserve all the recognitions she got from Hollywood.
Jane Foster is a small role but what made us include her in our list is because Natalie is actually a smartass, Harvard graduate with a Bachelor's degree in Psychology. How awesome is that!
He's not part of the Avengers world but I mean… Lots of articles have already talked about how Ryan Reynolds and Deadpool are actually one person. Is there even anything more we need to say?