Not-so-usual Office Christmas Party Themes to Try This Year
Getting ready for the holidays can be just as exhausting and tedious as waiting for the season to come, especially if you have to brainstorm for your personal parties as well as the one in the office.
Yeah, I know. You probably thought of doing "retro" or how about "your favorite cartoon characters".
We like taking things to the next level and upsize our Christmas experience with our colleagues. Themes are life!
Skip the stress of thinking which decade you should do this year or if you should revamp your Hawaiian party. Here are our Christmas theme picks perfect for the office (or even for the one at home!)
1. Red Carpet
Christmas, aside from Halloween, is our favorite excuse to dress up. That one day you leave your desk, kick off your work shoes and put on something nice that your resident office cutie will surely notice.
Why not go for a red carpet theme?
Think Oscars, Emmys, and Grammys where everyone is just glamorous and dressed up.
Design ideas:
Colors - red, black, gold, silver
Photobooth backdrop - check out the different red carpet events and what they put on the backdrop. Place a nice layout of your company logo and have flashing lights to mimic paparazzi.
Outfits - clothes could go with various colors and style. Let your team choose what outfit suits them best for as long as you have glamorous, formal ones.
Food - Try continental picks for your buffet. Wine and champagne. There should be wine and champagne.
Program - Watch some snippets of awards. You can have performers, grand entrances, actual awarding.
Toast to a great year!
2. Villains
Let's be honest, you've been a Disney princess for three years and you don't need to reuse your Belle costume one more time (you've had too much selfies in that costume, tbh).
This year, why not try a Villain-themed party!
It's a naughty, naughty Christmas in the office. Be Ursula, Maleficent, or the Red Queen. You can also go for comic book villains.
Design ideas:
Colors - red, green, black, white
Mix it up - Reinvent the villains and imagine how they would celebrate the holidays! Be as creative as you can. Go for sparkles and shimmer!
Photobooth - get your villain attendees' mugshots!
Ambiance - Play some unusual Christmas soundtracks! Check out songs from The Grinch and Home Alone. Super nostalgic!
You can play around with this theme when you try your best to make it look like Disney, Marvel, or whichever villains somehow just gathered to a Christmas party.
3. Filipino Party
There must be nothing more festive than an authentic Paskong Pinoy. Mix that with the rich, native Filipino diversity and you get the most amazing party - or fiesta, if we may say so.
Design ideas:
Decors & Colors - go crazy with Christmas lights, parols, and even setup a giant Belen in your office. Red, green, white, brown
Outfit - Take pride in our formal fashion of Baro't Sayas, Filipinianas, and Barong Tagalogs. Or perhaps work the countryside fashion with Camisa de Chinos and Pinya trousers with matching salakots for headpiece. You can also try to pull off native costumes of our indigenous peoples.
Food - authentic Filipino food of course! Plus points if you can score buffet servings for the Filipino Christmas staples - puto bumbong, bibingka, with sikwate sounds so delicious!
Ambiance - give it a nice Paskong Pinoy vibe by playing our very own Christmas music (time to bring out that Jose Mari Chan CD)
4. All White
Dreaming of a white Christmas but can't stand the cold?
Dress up your office Christmas party in all white!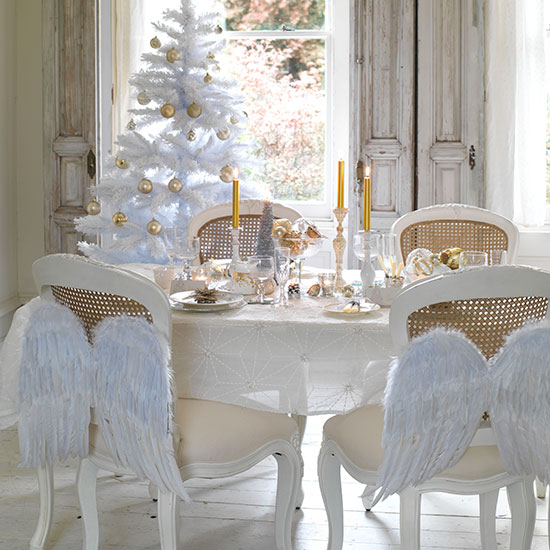 housetohome.co.uk
Nothing says classy and chic than a white-themed party. Let your party ooze of glam with a touch of gold.
Design ideas:
Decors & Colors - Everything white with accents of gold. Keep things sophisticated by sticking to a minimalist design. Awesome points if you can score white and gold-accented plates too!
Outfit - Require everyone to wear just white. It looks gorgeous when you're all together. Keep to the theme and maybe ask them to have a hint of gold in their outfit as well.
Food - If you can, serve food that is white in color. Think carbonara, clam chowder, beef stroganoff, white rice, vanilla cupcakes, white chocolate, among others.
Ambiance - Keep things cool with jazzy music and low white light.
Want to get more ideas on these themes? Check out our Pinterest boards for inspiration!
**
Got quirky ideas for office Christmas party themes? Tell us about it!