4 Totally Relatable Memes About The Incredibles 2
It has been a very long wait for the new incredibles movie to come out. 14 years to be exact but who's counting anyway?
Giphy
People were left hanging by the blockbuster Disney film, with many popular questions like what is little Jack Jack's superpower? And how does the most beloved super-powered family live their daily lives?
Finally, after much waiting, we're all about to find out what's new in the Incredibles 2. Everyone is going wild over this movie that comes out on June 15, and as usual, many notable memes have been created and quickly spread like wildfire on the internet.
Love your kids but don't bring them with you to watch the movie!
Alternative Disney
Clearly, this one knows how hard it was to wait for a sequel that nobody was even sure would come. And they're getting ready by making sure that they relive their childhood glory and sorry little ones but you'll have to sadly stick this one out and watch the first movie first.
Hanging with the crowd
Pics Meme
This is where you establish that "I know I stick out but who cares about you" image because there are better things to focus on- the movie! And for a die-hard fan, you best believe that nothing will get in the way of you watching the movie even in a theater full of youngsters.
Nature is with us
Pics Meme
We are not alone in this fandom! Do you see that even good old Mother Nature is showing her support to this film by portraying the iconic symbol of the Parr family AKA. The Incredibles. Kudos to you, mother nature has good taste.
Be like Dash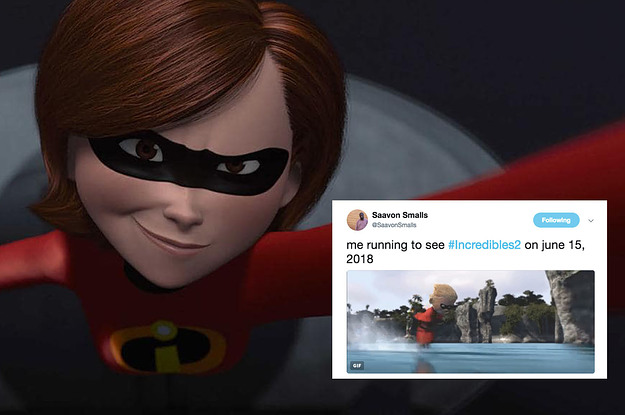 Buzzfeed
You can no doubt expect a full house when the film drops in theaters and of course, the best seat in the house isn't without effort. So remember to be like our energetic Dash Parr and make like the wind and- RUN!
Catch you all on theatres soon!