5 Summer Adventures in Destinations That Are Not Beaches
Want to go on a memorable summer trip but somehow got tired of the sea, the sun, and the sand? No worries! We've got you covered.
Beaches are always the go-to destinations during the sweltering hot season, and for good reason. Still, with over seven thousand islands in the country, surely, there is so much more to do.
Spelunking in Samar
Samar is said to be the caving capital of the Philippines. Two hours from the Tacloban City Airport, and you can already go on an adrenaline-high trek and hike to the Langun-Gobingob Caves.
Pinterest
This caving system is believed to be the largest in the country and one of the largest in Asia. Among the attractions are a so-called football field, a stage, and the cathedral.
looloo
Bonus tip: Buy banig souvenirs straight from the producers themselves, the women weavers of Saob Cave.
Woven Crafts
Extreme adventures in Cagayan de Oro
Threats of terrorism belie the wonders you can see in Mindanao. And you won't even have to go so far.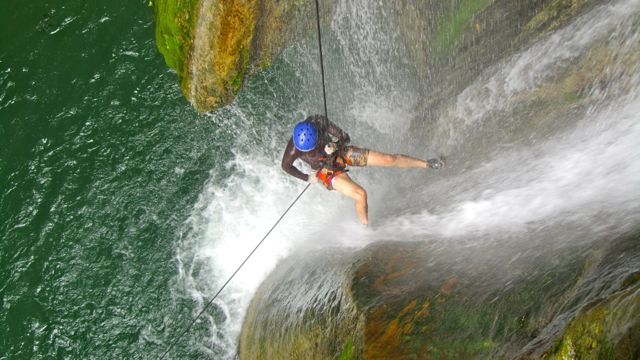 Rappler
You can fly to the Laguindingan Airport in Cagayan de Oro, and, already, you're just an hour's drive away from an exciting white water rafting treat!
CDODev.com
There are different courses to choose from — from the short course, to the basic, to the expert-level routes — and it all depends on your courage to try and just have fun!
Up in the air in Pampanga
You don't have to go so far from the metro for a different and exciting trip. In Pampanga, you can go ultralight flying.
Boarding Gate 101
The view from way up, above the clouds, is truly exhilarating. Plus, having to be a pilot is an anecdote that you can keep sharing to your friends and office mates. This is definitely one you would never forget!
Ollie de la Cueva / YouTube
Finding peace in Batanes
On the northernmost part of the country, we can find an unadulterated piece of paradise we call Batanes. There, the locals are honest and welcoming; the grass is as green as they can get; and the fresh air, terribly cleansing for our pollution-battered lungs.
Chito Vecina / Choose Philippines
Batanes is the place to be when you just want a hassle-free, detoxifying vacay that allows you to disconnect from social media and retreat back to your innermost self.
Travel with Maria
Chasing waterfalls in Iligan
Knows as the City of Majestic Waterfalls, Iligan City actually has about 24 waterfalls! Every waterfall may cater to your personal interests.
looloo iNSIGHTS
For instance, if you want a more-visual treat, go to Dodiongan Falls which boasts of its angel wings-shaped boulder. If your gal pal used to ace social studies, she may just want to see the Maria Cristina Falls in person.
Maria Christina Falls / Travel Trilogy
There's always a reason to fall for Iligan.
Bonus tip: If you're game for a night-out with the barkada, try Fat Pauly's, which serves craft beer with fancy names.
*Post photo by Rio Martin Lansang for Trexplore the Adventures.