5 Kendrick Lamar Songs on Women's Worth and Wonder (and Why We Love That He Won the Pulitzer)
You've probably heard of Kendrick Lamar. You know, just a "simpleton" from Compton known all over the globe for his excellent rapping, wonderful productions, and artistically woven (not to mention, catchy) hip-hop and jazz fusions, and even humanitarian work. No big deal, just that this rapper and songwriter has probably outdone himself (yet again) by winning the 2018 Pulitzer Prize for Music. Just when we think he could not top his Black Panther stint, he surprises us all (Seriously, hosting free screenings for kids living in housing projects was heart-warming).
What makes Upsize PH happy about Lamar's recent victory is that his has words written about women — our worth, wit, and wonder. While the rapper's repertoire and music videos are not totally free from lyrics and images that are offensive to girl's sensibilities, we believe that he has songs worth our attention, as we congratulate Kendrick for another job well done. Here's to hoping that he continues this steady path towards female empowerment, lest we call out his act!
Here are the top 5 Kendrick Lamar songs, both from his Pulitzer-winning DAMN. and other albums, that would make any woman know why we are worth the first-rate rhymes:
I love the way you put it on your eyes
The roses on your face light up the sky
Those lips are colourful all of the time
And girl that's fine, but I wanna know do you mind
No makeup today
Perhaps as a counterpart to Bruno Mars' ubiquitous (and overly cheesy) Just the Way You Are, this is another way of saying that some girl's eyes "make the stars look like they're not shining". In these lines, Kendrick recognizes that women can be beautiful with or without makeup. He even asks, "Do you mind?" Not an order, not a request. Just some guy's pining to see the other side of a woman's beauty.
Dark as the midnight hour or bright as the mornin' sun […]
Beauty is what you make it
I used to be so mistaken by different shades of faces
Then wit told me, "You're womanless; women love the creation"
It all came from God, then you was my confirmation
Not many rappers have gone lengths to say that beauty does not reside solely based on skin color. Some critics have even hailed this song as Kendrick's take on what "generations of colorism has done to our perceptions of black beauty". Now, we see Lamar is not mistaken nor blinded by varying shades, but celebrates women for our different hues and the wide range of color we bring. Great work, Kendrick: we love our complexion with or without the affirmation.
She's compatible, she's independent
She handle her business, she believe in God and no other religions
She's never in competition, when it comes to her friends, she's dependable
She set her own trends, a confidant, a mediator
[…] Oh what a girl, wonder how her life can be […] she got the world
While the title might be problematic for those who might argue that Kendrick assumes a woman's need for a man like him, his verses might cause us to forgive his misdeed. After all, Kendrick, in an interview, even later revealed that "the real point of the song was that he actually needed her; she was able to be successful without him." As genius.com puts it, it's really more of "He Needs Her". Well, we could not agree more.
You something different, I'm glad I found you
So pretty, I'll never do anything to hurt you
It's not rare to hear an open admission about women being different, being the source of happiness, etc. But if that declaration of not ever hurting you doesn't give you joy… well, alien or not, that's something we girls would value (and hope to be really true).
Of course, this list could not be complete without the work that launched a Pulitzer for Lamar. Of course, so many women and even actresses have called out all the Photoshopping that make them feel less of who they are, as if their beauty is not enough. Kendrick quips that he's tired of such acts, too, and would rather see and value stretch marks. These lines speak well enough about beauty standards, and what the real deal is for most of us.
Congratulations, Kendrick, for the well-deserved prize. Here's hoping that your social commentary rooted in your art and music would also cover more material on gender sensitivity and other pertinent issues. When you do that, DAMN. We'll all be clapping loud for everyone at the back.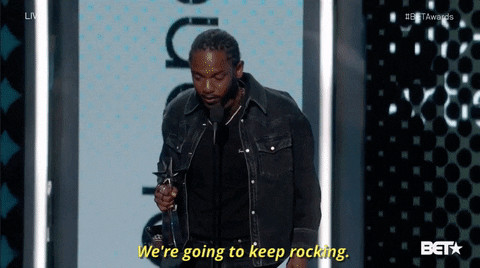 Giphy