Another One Bites the Cinemas: Reasons Why Bohemian Rhapsody is a Must-Watch
DISCLAIMER: THIS MIGHT HAVE SPOILERS YOU DON'T WANT TO KNOW ABOUT.
Any writer would be Under Pressure to write about the recently released biopic Bohemian Rhapsody, let alone the larger-than-life persona of the frontman that the movie also celebrates: the fantastic, fabulous Freddie Mercury. However, such a beautiful tribute to a wonderful soul and a legendary band must not go unnoticed.
Don't Stop Me Now—this review must be written. While it is not certain if the film would rock everyone, it did rock a lot of people's hearts—those who have been fans of Queen, and those who have only started to be exposed to their legacy as Champions of music, now and always. (And we are, We Are [also] the Champions alongside them. What joy it is to behold raw, powerful talent, one that even precedes this writer's existence, and one she is sure is bound to outlive her.
Here's a Crazy Little Thing Called Love for the readers, though: This review might have spoilers. Read at your own discretion, or break free.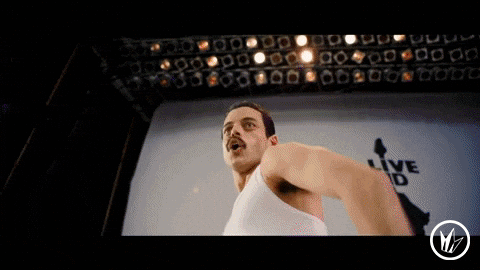 Giphy
1) The movie does a lot of healthy juxtaposition of crucial moments in the band's journey alongside the recording and/or playing of their hits, with a good dose of humor here and there, too. It also gives a lot of insights about the artistic process of recording—how there is more to lasting songwriting than what meets the eye.
Seeing Malek deliver jokes about "having more incisors leading to more (vocal) range" is just the tip of the iceberg. One would have to be a total emotional rock not to cheer for the group in their initial gigs until a time that crowds know their song's lines by heart, or not be affected by how "Love of my Life" was carefully, meticulously interwoven with Freddie's revelation about his sexuality to Mary Austin. The band's journey in the recording studios—how things are not just gotten right at the first try, and how what makes a band a band is how everyone is involved in the decision-making process—is at the heart of the movie, making it endearing for any music lover to appreciate the genius behind the hits of one of the world's most beloved bands.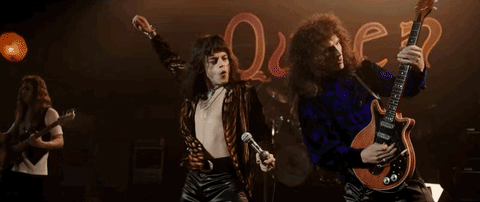 Giphy
It is also very humbling for musicians to hear established artists like Freddie admit, "I sound like shit". It makes so much sense to hear the members of Queen argue among themselves about what should be done with their music as they try to keep up with the times. It is the experimental, unpredictable nature of Queen that made them have their own mark, and any aspiring musician might learn a thing or two with the risks they are shown to have taken—how it takes heart, uniqueness, and teamwork make a band shine, more than just pure talent.
2) The movie has a lot of flaws in terms of technicalities, and at times feel like a medley of Queen's greatest hits and a hodgepodge of scenes just put together—but it is its being flawed that makes it much more enjoyable.
Sometimes, there are disjoints from one scene to another. Sometimes, a scene is not fully fleshed out, yet one is immediately transported to another milestone of the band. Regardless of these technical flaws, however, one might be made to appreciate that its being subtle and sometimes "hesitant" moments to go "over the top" – such as how it subtly portrayed some harsh truths about the band and especially Freddie, with regard to controversies that surrounded his private life, his sexuality, and his temperament – that make the movie tasteful and even "palatable" to those who may not be fans (or may be totally unaware about the band's history).
It is these choices, which some may deem "weak", that make the movie marketable to viewers coming from various generations.
3) At this point in time, no one does Freddie Mercury better than Rami Malek.
One might know Rami Malek from the hit TV series Mr. Robot, and after this movie, Malek's star is just starting to shine and skyrocket even further. Freddie's facial tics, stage movements, speaking dialogue—it is as if Rami Malek is gone, and Freddie Mercury is alive once again. At the heart of Bohemian Rhapsody is the marvel that is Rami Malek's acting. If you want to be in such a treat (other than Queen's music, that is), go watch the movie for this reason, too.
4) A lot of lessons can be "takeaways"—lessons that are as timeless as the hits that have graced the airwaves since the 1970s.
One might be famous, but still lack meaningful relationships. One might be talented, but still need fellow talented people to thrive, and to be happy. One might have all the money in the world to throw parties, but amidst a throng of people, one might just want to see a familiar, beloved face in the crowd. There are so many heartwrenching moments in Bohemian Rhapsody as well as triumphant ones that make a viewer laugh and cry with them, and it is in this humanity that one gets a better understanding of why their songs are classics that have stayed and will continue to stay with us. It deals with friendship, family, love lost and found, all wrapped up into a culminating performance in Live Aid 1985: an iconic one referenced by many and one that has influenced most of the bands and musicians today.
Today and tomorrow, one would still find one's self headbanging to Freddie's vocals rise through the airwaves: "So you think you can stop me and spit in my eye." Believe us, Freddie. No one can stop that bravado, that energy, that passion. Anyway the wind blows, Queen is here to stay, and this biopic is only one of many to bear testimony.