Got an AFAM Friend? Take Them On A Cultural Tour Around Old Manila
AFAM /ah-fahm/ n. - A Foreigner Assigned in Manila; also, A Foreigner Around Manila.
Got one? Is he/she eager to see the real side of the city? Well you can show them that Manila has a lot to offer. The Philippines' capital is more than the terrible traffic and the unpredictable weather.
Time to hit the busy streets of Old Manila. Here's an easy guide so you look like you know what you're doing:
Check out San Agustin Church (and maybe crash a wedding).
You can find the oldest church in the country in the charming walled city. First built in 1571, this Augustinian church is the only building left intact after the destruction of Intramuros in World War II.
Flickr
Recognized by UNESCO as a World Heritage Site, you will definitely not regret spending an hour or two here. If you want to know more about the history of the church, you can drop by the San Agustin Museum.
Visit the National Museum.
Did you know that you can now visit the National Museum free of charge? Yes, you can look at the 1,032 pieces from 18th to late 21st century, the stunning Spoliarium by Juan Luna included, of the visual art collection for free.
Asia-Europe Museum Network
Dating back to 6,000 B.C., the archaeological collection of the museum is also a must-visit. Do not miss Ethnography collection from the Anthropology division. Too much to see and to learn, right? You can even make a date or a family outing out of it.
Do an architectural photo walk in Escolta.
If you're a big fan of photography and architecture both, then Escolta is the perfect place for you. Here is where you can capture the essence of Old Manila.
Planet Philippines
Dubbed the "Queen of Manila's Streets," Escolta will fill your eyes and camera with buildings created by national artists, the likes of Juan Nakpil and Jose Maria Zaragoza. You can get to Escolta via ferry, jeep, or train.
Enjoy the food in Binondo.
After spending your time being mesmerized by the past, thanks to the National Museum and the architecture of Escolta, it's time to fill your bellies with food that would not empty your pocket.
Eatsplorations
After a tiring day, go ahead and enjoy the delicacies in this Chinatown.
Catch the famous Baywalk sunset.
Primer
Sunsets are beautiful anywhere, but there is something about the sunset seen from Roxas Boulevard that is special. Manila Bay bathed in deep orange, and fire red is a scene straight out of travel brochures.
Take a night stroll in Rizal Park.
Because of the scorching weather recently, the ideal time to walk around Rizal Park is at night. The dancing lights is a sight you should not miss. However, do not let your fun hinder you from being vigilant. Safety is always first.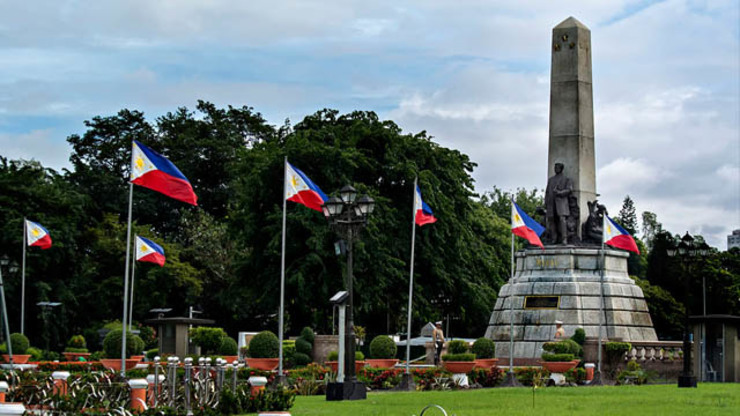 Rappler
Photo from Holiday Philippines Blog.