We Challenge You to Finish Watching These Netflix Series in 2 Days
We love the weekends as much as you do and although we try our best to have a life, we end up going for a good curl on our beds wired to Netflix all weekend long. With this, we take pride in being one-series-a-day ladies who need no man!
No plans of leaving the city this year and bummed out just from thinking how many hours two days have for you to simply have no plans and just stay at home? Treat yourself to a few interesting series to keep you occupied for two (or more) days. We've finished these ourselves and they are guaranteed awesome fixes that will keep you clicking for more.
We finished these series in just a few days. Let's see if you can do it too!
Mindhunter (1 season, 10 episodes, 496 mins)
Netflix
What it is about: Set in 1977, a frustrated FBI agent partners with an unlikely ally and begins to study a new kind of murderer. Basically, you'll see how these agents unravel the behavior and minds of what used to be the most unlikely of murderers.
Why you should watch it: You'll literally be unable to press pause. The series starts slow but gradually builds up into a momentum where you'll find yourself rooting for the characters and even sympathizing with the murderers. Also, Charlize Theron produced this show and there's definitely going to be a second season. Most of the murderer names' reference are actually real life criminals but we can't know for sure if the story is actually based on real life.
How long does it take to finish: You can finish this new mind blowing Netflix original series in less than a day roughly about 8.3 hours to be specific.
Sherlock (3 seasons, 10 episodes, 880 minutes)
Netflix
What it is about: This award-winning British series have been nominated and awarded for a reason. The storytelling introduces a new perspective to the Arthur Conan Doyle classic with the beloved Cumberbatch-Freeman duo. There is a season 4 but we think Netflix is waiting for the whole season to launch before it updates the system. In the meantime, keep yourself updated with the first 3 seasons.
Why you should watch it: Every episode is a venture into the mind of high functioning sociopath and consulting detective, Sherlock Holmes. It is amazingly laid out with a fantastic cinematography and beautiful direction. Also so you can find out why nearly everyone's a Cumberbitch.
How long does it take to finish: Indulge yourself in roughly 14.7 hours of intelligent humor and crime-solving. You won't be able to take your eyes off the scenes so this wouldn't be so difficult.
Black Mirror (3 seasons, 13 episodes, 741 minutes)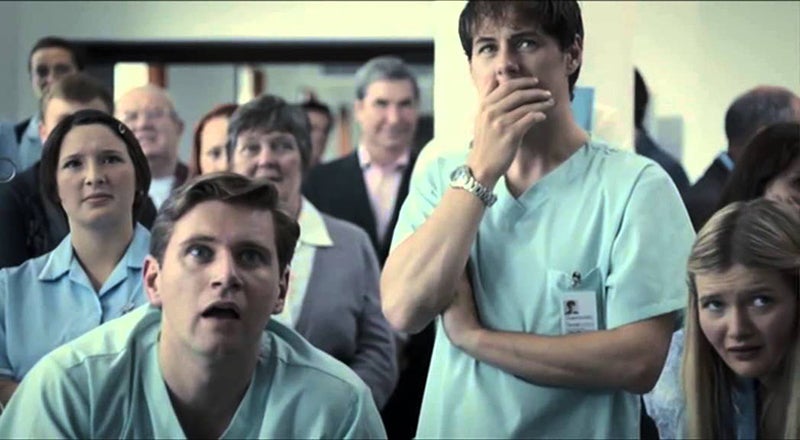 Netflix
What it is about: Black Mirror is probably one of the most solid foundations series-wise among Netflix originals. Each episode tells a different story and shows different levels of gore and craziness. A fourth season is underway.
Why you should watch it: You'll question the role of technology in your life. You'll question your role in life. You'll question your morals, your beliefs, and your perspective on life - what is real and what is happening. If you love cringing and getting goosebumps every now and then, this is your show.
How long does it take to finish: Nearly 13 hours of challenging yourself to not skip or miss a part. We finished this in a day and got a bit afraid that we might end up a crazy schizophrenic but hey, see if you can finish the whole thing in a day too.
Narcos (3 seasons, 30 episodes, 1,547 minutes)
Netflix
What it is about: I might have been saying this a lot for the past items on this list but Narcos is one of the best series you could binge watch on Netflix. It is about the rise of the cocaine trade in Columbia headed then by Pablo Escobar and then by the Cali Cartel.
Why you should watch it: WATCH IT FOR PACHO HERRERA. But seriously, watch it for the story, the drama, the thrill and the characters. You'd most likely find yourself sympathizing with drug lords and cocaine dealers.
How long does it take to finish: Okay, this one is nearly 26 hours but that includes the dramatic guitar intro that you'd want to turn into your personalized ringtone. Perfect to keep yourself busy for the two days straight.
Better Call Saul (3 seasons, 30 episodes, 1,426 minutes)
Netflix
What it is about: If you're familiar with the award-winning show Breaking Bad, meet its prelude - Better Call Saul. It tells you of the story of Saul and his humble beginnings and challenges as a lawyer.
Why you should watch it: THE SHOW IS PURE CINEMATIC AND SOUND GENIUSNESS. If you loved Breaking Bad's slow movement and emphasized sound effects, you'll love Better Call Saul. This is a heightened version of all of those fantastic show elements you wouldn't want to miss. Also, if you love getting smart cliffhangers and figuring out story plots for yourself.
How long does it take to finish: Roughly 24 hours. Great enough for you to catch up and binge watch on the other shows we listed here.
Tell us what you think of our list and how long you finished the shows on the comments below!