An Easy Guide to Buying Your First Condo
For some of us, it's probably been years of paying a monthly rent, and you probably, finally, realize that the total sum of all those fees now yielded to nothing or probably time has finally come for you to move out of your parents' house.
It's time to finally take that step towards adulting and better turn your cash to worthy investments: it's time you finally get a place you can call your own. If you think a house and lot may be a lot to deal with right now, a condo's probably best for your lifestyle.
Here are some things to consider before you commit to this life-changing decision:
1. The developer
Is it a credible institution? This is most important, especially if you're opting to buy a unit that's still being developed. Sure, purchasing pre-selling units is a way cheaper option than paying for units that are all ready for occupancy, but you wouldn't want your money going to waste if the developer suddenly stops building or has been delayed when it comes to deadlines, for whatever reason.
If you intend to purchase a condo — whether you'll rent it out or decide to live in it — allow us to briefly discuss the reputation of three of the country's top condominium developers:
SMDC generally has the best locations! They're located in areas where the daily commute can be convenient and is near malls, so everything you think you would need is walkable.
SMDC
However, they offer units that are really small, which is not the best option if you hope to live there with your family but works well if you're a busy career gal who just needs a place to sleep and dump clothes.
Megaworld, meanwhile, has good location options and they sell units at relatively affordable prices. However, I've been told by some peers that the quality of materials used will make you want to renovate the whole unit. This basically cancels out the "savings" you supposedly get from their affordable prices.
Megaworld Corporation
I've been told by some peers that the quality of materials will make you want to renovate the whole unit. This basically cancels out the "savings" you supposedly get from their affordable prices.
DMCI is most known for their mid-rise buildings and community enclaves. This is important to know because as a would-be unit owner, you will have to share amenities with those living in the property.
DMCI Homes Online
Just imagine how many people will have access to the swimming pool on a summer day when your condo has four towers with 30 floors each! One concern, though, is the location of properties; they're not so commuter-friendly and relatively far from malls and major establishments. You will probably want a car.
2. The location
In a country with moody weather, it's best to check first if the area is flood-free and if it happens to sit in the West Valley Fault. Better be prepared for the big one, you know.
If you have children of your own or planning to start your own family, perhaps a major factor to consider is the proximity of your home to a school. It's also worth knowing if the property is near your workplace, and, if not, will the commute be easy for you?
Do also check how far the nearest hospital, police station, supermarket, and church you go to are. If fitness is a priority for you, also see if the place you're scouting is near some gym.
Different city, different cost of living. Living in BGC, for instance, is more expensive than living in the South. This applies to the price of condo units, too.
According to a 2015 study, Makati (averaging at Php 13.83 million) is known to have the most expensive condo market in the country. Next comes Taguig (Php 12.09 million), San Juan (Php 6.77 million), Pasay (Php 6.67 million) and Manila (Php 5.79 million). Mandaluyong (Php 5.55 million), Pasig (Php 4.6 million), and Quezon City (Php 4.52 million) have relatively more affordable prices than the rest of the metro.
Metro Manila Condo Prices as of 2015 / Lamudi
The most affordable ones, though, are from the south of Metro Manila: Parañaque (Php 3.9 million), Muntinlupa (Php 3.64 million), and Las Piñas (Php 3.1 million).
3. Monthly dues and financing options
Contrary to what an average Filipino believes, you don't really have to be a millionaire to own a home. All you need is to be able to pay a reservation fee and your down payment (around 10 to 20 percent of the total price), which can be divided in 20 to 40 months (depending on the developer). The remaining balance of the unit may be paid through a bank loan, PAGIBIG loan, or an in-house financing service.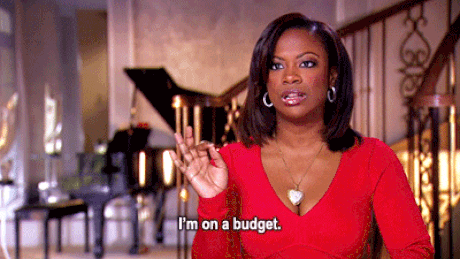 Giphy
Leaving the apartment or the dormitory you've been renting for quite some time now to live in your own space may generally seem more practical in the long run, but decide if you can actually afford the monthly dues.
Even if the place is rent-to-own, being a home owner also means you'll have to pay for other bills on top of your monthly payment: the electricity, water, internet, association fees, and even groceries. Sum up all the expected expenses per month.
4. Condo type
This property is something you will already purchase and invest on and will soon be yours so make sure it's the right type for you. Look to the future and see if you're actually okay with just a studio or perhaps you'd be needing at least a one-bedroom or two-bedroom.
Lauren Hannah
The price of your condo would depend on the type so make sure you take this into consideration as well.
With this estimated total cost, do you think you'd still be able to live your day-to-day comfortably? If your answer to this is yes, then perhaps it's time for you to finally go out and chase the freedom and independence you deserve.
In the long run, you can always have your place rented out and eventually earn from it as well. So either way, buying a place is always a good investment.
Welcome to adulthood!