Social Media Etiquette for the Working Millennial
Admit it. You won't last a day without posting on your trinity of social media accounts. Whether it's cute or cringe-worthy, you're most likely to post about it.
The thing is, there are certain things you just don't broadcast on Facebook, Twitter or Instagram. Here are six do's and don'ts when it comes to social media protocols:
1. DO NOT rant about work, your boss, or your colleagues.
You may not be friends with your boss but you're probably Facebook-friends with someone else who is. Chances are, your boss will find out one way or another and well, you may want to expect getting called in by HR the following day.
YouTube
2. DO refrain from emotional dumping.
If you're not between the ages 12-18 years, it is highly suggested that you keep from posting looooong cheesy stuff about your significant other, or worse too much hugot posts because you're not over your heartbreak.
We can only take so much before we start unfollowing you.
Quick Meme
3. As much as possible, DO NOT use social media while at work.
Unless your job actually requires you to post on Facebook, Instagram and Twitter, refrain from using company time to update your account. You're being paid to work and not to post about the cute guy you hooked up with the night before.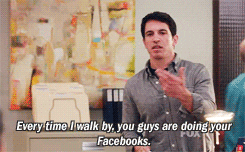 Giphy
4. DO think before you post.
In this age where anything can go viral or screen capped in an instant, think a hundred times before posting anything that will hurt other people. Consider being in their position first before posting something offensive. Don't be an attention seeker.
Thinglink
5. GO easy on the parinig.
How many times did you post something sarcastic on Facebook in an attempt to piss someone off without actually calling them out?
Here's a tita advice: the parinig is a sign of immaturity. If you can't say something to a person's face, just well, stay off social media.
Meme Generator
6. OVERSHARING is not caring
No one really wants to know what you're doing every ten minutes or so. The same goes with too many selfies. It's not cute, it's annoying. You sure wouldn't want just one person appearing on your feed, don't you? Caring is not oversharing.