Pros and Cons: Dating a Local vs. Dating a Foreigner
*Alright before we start, we'd like to credit instagram.com/jerichorosalesofficial and twitter.com/chrishemswort66 for the photos on our cover and thank the heavens above for sending these gorgeous men to the world.*
Today's dating world has been more open than it has been before. And thanks to the advancement of technology and the affordability of traveling, the world slowly begins to obviously become much smaller than we ever thought it was.
With the rise of Tinder, Bumble, and low priced fares come the variety of dates as well. It seems so easy to meet people from all over the globe if you know where to find them.
If you're keen to finding yours, curious to try dating someone from a different culture, or maybe even been with different dates, perhaps you could relate with us.
Here are some of the pros and cons of dating foreign and local guys based on our personal experiences:
Dating a Local
Pro
Can easily communicate since they speak your native language
Con
Some guys can't say what they actually mean to say in the fear of you getting mad or something
Somewhere on the internet
Pro
Most likely knows all the hippest places for a great date
Con
Both of you had bad memories of that place
Pro
You get to meet their friends
Con
Which consist of mostly girls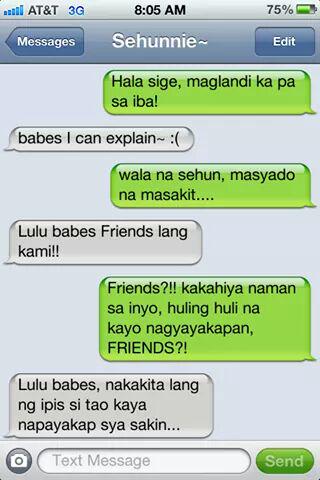 twitter.com
Pro
Probably has a stable work near your office
Con
He's on a different shift
Pro
You can just see each other whenever you want
Con
But since you both have strict parents, you can't really travel far from Metro Manila
Pro
Meeting his parents if things get pretty serious
Con
He's 30 and still living with his parents
Pro
Would tolerate your "strict parents" situation
Con
But somehow still don't manage to understand how you feel (like, WTF right???)
Pro
You don't have to explain your deep-rooted Filipino traditions and what culture your province has
Con
His parents don't like where you come from (cause it happens sadly)
Pro
He comes from an interesting land far, far away
Con
He has to return to his land far, far away
Pro
He'll most likely be openminded cause of your different cultures
Con
He can get a bit judgy about the really weird stuff we normally do or believe in
Pro
It's sexy and romantic how he can swoon you in another language
Con
He sometimes forgets you don't speak his language and for some reason randomly blabbers in his native tongue
Pro
Most likely adventurous and would take you to fun, outgoing dates
Con
You'll have a difficult time explaining and asking for permission about excessive traveling to your parents
pinterest.com
Pro
He's always early for a date
Con
You're literally always late for a date so…
pinterest.com
Pro
He's so eager to know more about you and your country which gives you so much to talk about
Con
It can be difficult to meet halfway if there's something you don't agree on
Pro
Probably is tall, has blue or green eyes and abs (yaaas gurl u get that!)
Con
You get really judgy looks from people when you walk hand in hand in public (yaaas gurl u get that a lot too)
Pro
You get to meet their friends and/or parents if things get pretty serious - which is a super awesome feeling btw
Con
You're actually super anxious about what his friends and/or parents think of you especially when they start talking in their own language like, omg do they think I'm a bad person? Do they think I dress too bad? Do they even like me for their friend/son? Are they judging my culture already? You'll very know.
But of course, it still remains that whoever you wanna date or wherever this guy came from, we just hope he treats you right.
Go for it, girl!