6 Relatively Easy Tips on How to Avoid the Holiday Weight Gain
Everyone probably has the same struggles when it comes to keeping the bulging holiday weight off, when temptation is just too much to resist and before we even know it we've already eaten more than we could chew- literally. To help combat that impending weight, here are some tips on how you can avoid the hefty weight gain this holiday season.
Hydrate with H2O
Shutterstock
Water is clean, refreshing, and it's better for you than anything else out there. Instead of reaching for fizzy drinks or powdered juices go for completing that 8 glasses of water a day, and you'll be less likely to feel hungry because drinking plenty of water will help digest food quicker and make you feel fuller.
Say NO to skipping meals
Photobucket
There is no such thing as a healthy starvation diet and neither is it good to hear your stomach rumbling and growling all day long. Meal-skipping will lead your body to turn your muscles as a fuel source to compensate for the lack of nutrients that you should be taking in by eating properly.
Giphy
Going without food for long periods will make your metabolism slower and sap your strength, leaving you with little to no energy to fulfill even the most mundane tasks of the day- and lead to fainting spells.
Eat and chew slowly
Your Weight Loss Aid
Woah there! Don't just shovel your food down your throat and eat like your running out of food at the table. Besides the obvious risk of choking you are doing your digestion system a serious injustice, eating meals in a fast pace will leave you craving more because it's over so quickly that you don't even notice the food is gone.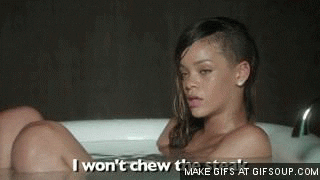 Giphy
Eating slowly will allow you to feel fuller for longer and help your digestion, better your hydration, and greater satisfaction in meal times.
Get the habit of portion control
Shutterstock
Understand what you're putting into your body and remember the rule of moderation. You can enjoy what you like but never in excess, weight is defined by the amount of calories we intake and portion control is knowing how to manage your weight with discipline and awareness.
Limit the booze
Booze Mart
A sip or two every now and again isn't bad but it's easy to overdo it and just go wild with the family and friends by busting out bottles of alcohol. Alcohol has almost twice as many calories in proteins and carbs, the calories found in the average alcoholic drink are quite concentrated compared to many foods, and this actually causes one to inadvertently take in many more calories than they realize.
Get active
YouTube
With good health comes proper diet and regular exercise, don't go for the easy route because it will only be cheating yourself when your know you deserve better. Start with even the little things like taking the stairs and walking a few miles when you know you've eaten a lot, nothing big like high intensity in the gym- baby steps and you'll reach your goal eventually.