Upsize Tries: Foodpanda For A Week
I love food. I cannot even encapsulate and explain in words how much I love to eat.
I remember always writing "EATING" on the "hobbies" section of every autograph book I signed.
Once I found out about a food delivery service that can send really good, not-so-fast-food on my doorstep, I immediately get hooked. So I decided to try Foodpanda not just for a meal or a day, but for a whole week's lunch.
Though I know you're more interested in the food, here are a few quick facts you should know about this blessing on earth:
Food delivery is a pretty big thing in the Philippines especially in Manila so if you're familiar with how online ordering works, then foodpanda's process would be easy peasy for you.
Basically, that's it! So easy, right?
What foodpanda does is track which partner restaurants are closest to your location and since I work in the Makati area so I had a pretty good range of restaurants to choose from.
Here's how my lunch adventure with foodpanda went:
Disclaimer: I was too excited to indulge into the food and am really bad at taking photos of food.. cause I get too excited. But I promise you I tried this all and am giving honest reviews. *tearing up*
This is my first time to try foodpanda. Pink's Hotdogs are pretty famous in California and having their restaurant situated at a prime and fancy location here in Metro Manila (they're at the Shangri-la at The Fort), I had really high expectations.
They're offering two meal deals here. I got the Hollywood Meal for P 480 - Hollywood Legend, french fries, and a Coca-Cola product.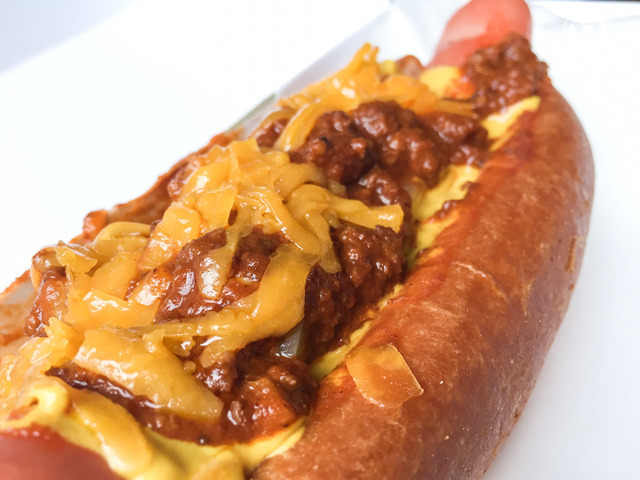 Rappler
Delivery charge is only P 59 and my order came super quick! Estimated delivery time indicated on foodpanda is 60 minutes but mine arrived in 30!
Lunch breakdown
| | |
| --- | --- |
| Hollywood Meal Deal | P 480 |
| Foodpanda Charge | P 59 |
| Total | P 539 |
Foodpanda
11/10
Especially for a first time, fast delivery was impressive!
aa
Pink's Hotdogs & Chili
5/10
It was oily and crazy and my hotdog bun was overcooked and just.. perhaps you shouldn't order this for delivery. If you wanna try Pink's better head to the actual restaurant or fly to LA for the legit one. 
I actually wanted to try Sushi Nori for my first time with foodpanda but for some reason it didn't have the option to immediately have my food delivered. Anyway, on the second day, I ordered early so I can satisfy my Japanese craving.
Sushi Nori is also based in Bonifacio Global City and offers Poke bowls. I tried their Salmon Poke.
Sushi Nori / Facebook
I was really excited for this order cause I'm a big fan of Japanese food. Unfortunately, on this particular day, I was really busy with work and was expecting that the rider would bring up my food same as the previous day.
Instead of the promised 45 minutes wait, I waited 65 minutes and had to go down the building to meet the delivery guy cause he stopped on the other side of the building and was afraid of getting ticketed or towed.
It was annoying and such a hassle but the food made up for it anyway.
Lunch breakdown
| | |
| --- | --- |
| Salmon Poke | P 269 |
| Foodpanda Charge | P 59 |
| Total | P 328 |
Foodpanda
7/10
I was not so happy cause I got foodpanda for convenience and I didn't really so much get that.
aa
Sushi Nori
9/10
The food was delicious. The fish was fresh. Plus, the serving was the right size for its price cause I had a loooot.
Day 3 was another busy day that I actually forgot to eat lunch at the right time. Nonetheless, eating time came and I remembered to order from my now favorite app.
Trufa is just in Makati and promises to deliver in 45 minutes according to foodpanda. I love Trufa because I can customize my own pasta dish! For day 3, I had Cremosa (cream, butter, and parmesan) on Farfalle pasta with extra bread.
Trufa / Facebook
It was all good I guess cause the place is near me and it was not a busy lunch hour. Food came on time still hot and fresh!
Lunch breakdown
| | |
| --- | --- |
| Cremosa on Farfalle | P 240 |
| Extra bread | P 100 |
| Foodpanda Charge | P 59 |
| Total | P 399 |
Foodpanda
10/10
I expected it to be early cause the restaurant was near me and it was. I felt hungry since I realized it was already after lunch hours but foodpanda didn't keep me waiting.
aa
Trufa Pasta Bar
8/10
I love being able to customize my food. It was undoubtedly delicious but giving it an 8 cause it was just a bit too creamy.
Badly craved for some Pad Thai for some reason on this day and I was already thinking of heading to a Thai restaurant after work. Luckily, the craving is immediately satisfied and more because foodpanda delivers Soi!
This is probably the happiest transaction I had. Food was hot and on time! Plus, foodpanda gave me a promo code for purchases minimum of P 250.
Soi / Facebook
| | |
| --- | --- |
| Pad Thai Chicken | P 273 |
| Foodpanda Charge | P 59 |
| Total | P 252 |
Foodpanda
12/10
My food is coming from Soi Glorietta which is kinda near where I am. I'm very happy because it arrived earlier than the promised 45 minutes. And extra points for the discount of course!
aa
Soi
10/10
PAD THAI is life! The price is good for the amount of serving. I wasn't able to finish the whole thing during lunch and still had some more pad thai for my afternoon munch.
What better way to end my foodpanda week with some tasty Chinese food. I wanted to celebrate by sharing some food to my colleagues and ordered dumplings and a main course from Tim Ho Wan.
Tim Ho Wan / Facebook
| | |
| --- | --- |
| Baked Buns with Barbeque Pork | P 175 |
| Pork Dumplings with Shrimp | P 181 |
| Spareribs Rice | P 205 |
| Foodpanda Charge | P 59 |
| Total | P 620 |
Foodpanda
10/10
My food came from Tim Ho Wan Glorietta and it was delivered quicker than the promised 45 minutes.
aa
Tim Ho Wan
10/10
Food in Tim Ho Wan has never disappointed me so far. I loved dining in and having food delivered and will surely go back for more.
All in all, I spent P 2,138 for five days of having foodpanda. On an average, I rate foodpanda a 100%. It is a very efficient service for those who are tired of having fast food cause it used to be the only ones available for delivery.
Yay for foodpanda!