Our Favorite Holiday Take Away Eats
Holiday dinners are best spent and enjoyed at home. The time spent in preparing are worth it when you see the smiles on the faces of your guests.
But sometimes, you just get too preoccupied to even start boiling water to begin your carbonara.
Fret your lazy butt not! We're sharing our top picks for holiday orders so you won't have to worry about cooking and preparations.
1. Fresh Lumpia (Goldilocks) - P 770.00 (20 pieces)
The Filipino take on the fresh spring rolls. Fresh Lumpia is composed of sautéed carrots, ubod, singkamas, and pork strips, wrapped in fresh lumpia wrapper and served with sweet peanut sauce. 20 pieces, party size.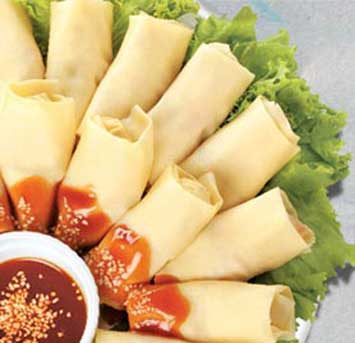 goldilocks.com.ph
Perfect for veggie lovers and diet conscious guests! We personally enjoy their yummy sauce.
Visit a Goldilocks branch near you, call them or order online with Go Delivery, or send the handa to your loved ones.
2. Sushi Party Tray (Kitaro) - Prices start at P 2,100.00 (Good for 12)
Throw a delectable Japanese party with Kitaro's Sushi Party Trays! A generous mix of fresh sushi, sashimi, and maki are served on a large platter good for 12 hungry tummies.
kitaro-sushi.com.ph
Check out their menu for a wide range of Japanese food choices to add to that party tray!
Kitaro delivery hotline: +632 911-1115
3. Cebu's Original Lechon Belly - Prices start at P 2,880.00 (Good for 15-20 pax)
The first of its kind to be introduced to the country, Cebu's Original Lechon Belly would surely be a great delight for your guests.
lakadpilipinas.com
All meat, no bones! Grab a bite of one of the Philippines' most delicious inventions.
Check out their site for more info on their services. You can even send one to your family and friends!
4. Pancit Trio (Amber) - P 950.00 (Good for 11 to 15 persons)
The ever-famous Amber delivers right at your doorstep! No need to worry about preparing a hearty serving of pancit and spaghetti, Amber makes sure your guests have a good range to choose from.
amber.com.ph
Amber has an awesome selection of Filipino dishes to choose from. You can even schedule your delivery! Check out their menu here.
5. Roast Beef in Mushroom Sauce (Conti's) - Prices start at P 1,130.00 (Available in Family and Party Size)
Conti's specialize not only in desserts but also in savory dishes.
shop.contis.ph
Take your pick in their generous selection of good food. Know more about how to order here.
6. Majestic Ham - Prices start at P 1,250.00 (Good for 10 to 20)
Another famous treat, the Majestic Ham has made a name for itself by becoming a staple dish for the holidays.
majesticham.net
Check out their website here for where you can get the most Majestic hams. You can also call them at +632 995 0661.
7. Rainbow Fiesta Cake (Sonja's) - P 900.00 (Good for 8 to 10)
Give your guests a colorful dessert with Sonja's Rainbow Fiesta cake! Six layers of fluffy vanilla chiffon cake, finished with smooth marshmallow frosting and a generous amount of candy sprinkles.
facebook.com/cupcakesbysonjaofficial
rustansfresh.com
Visit a Rustan's Supermarket near you.
9. Monster Meal Deal (Shakey's) - P 2,712.00 (Good for 12)
Go crazy with a pizza party with Shakey's Monster Meal Deal!
shakeyspizza.ph
Delivers quick to your doorstep! Dial 77-777 to get this awesome deal. Drool on more pizza selections from Shakey's here.
10. Buko Pandan (Nathaniel's) - P 260.00 per bucket
Give your guests a taste of Pampanga with Nathaniel's Buko Pandan Salad.
nathaniels.com.ph