The FOREO Luna fofo is the Skincare Tool You Really Need Right Now
The beauty industry is continuously growing but more than that, people have been going crazy with the never-ending search for the best skincare products and tools to achieve nearly perfect skin.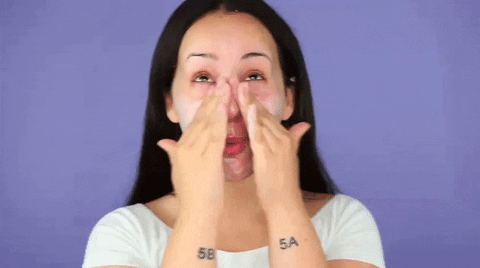 Giphy
We've all been spending thousands on toners, serums, essences, and whathaveyous and our dressers are probably packed with tons of bottles we don't even remember how we accumulated. Just before you open your wallet and start shopping for another "best facial cream" out there, hold your horses and check out the LUNA fofo.
Don't get fooled by the cute look of this little thing. The LUNA fofo is a powerful 2-in-1 smart facial cleansing brush & analyzer. What exactly does that mean though, right? Like if from one look you're already asking, "How can a thing so smol be so amazing? What does it even do and what makes it different from other cleansers?" Same.
Let me break it down for you.
Don't know if you're a dry, oily, or what part of your face is "combination"? LUNA fofo can help you with that. So basically you connect your fofo to the app and it does all the work. And it's real freaking time. It would tell you why you're suddenly breaking out or why you've been having flaky skin.
It tracks and responds to both internal and external factors that affect skin health including changes in climate, diet, and water intake. How awesome is that?
The app makes sure you've got clear, healthy skin and water helps with that a lot so fofo keeps tabs on your water intake too. Hey, we can forget to drink water too sometimes.
Before you start blasting a Bruno Mars hit on that, the 24k gold plating are actually there to make sure the sensors are hypoallergenic and helps accurately read skin hydration levels. Aside from that, the body of the fofo is made of body-safe silicone which enhances facial cleansing.
So you don't have to worry about your little fofo of joy getting splashed. It is quick-drying and nonporous which is totally 35x cleaner and more hygenic than your typical facial cleanser. Besides, it's bacteria-resistant so you're sure that dirt and small particles is less of your worries about reasons why you get breakouts.
fofo is powered by 2 replaceable AAA batteries but although it's powerful, it's still small so you could get up to 400 uses of each fresh change of batteries! That's like more than a year if you'd use it once a day for one battery change or even almost a whole year too if you use it twice a day. Convenient and efficient!
You basically just connect fofo to the app on your phone. Once you're connected, use your fofo to analyze your skin. There will be instructions on the app so keep your phone close because once it's done, results about your skin will show on the app. After that, you cleanse according to the analysis fofo made. Cleanse your face with a damp fofo and some product in gentle, circular motions. Your fofo will pause briefly when you need to move to another area. Isn't that so cool?
If all those reasons don't even entice you to get a fofo or two, I dunno what will. And it's only 89 USD (which is like less than PHP 5,000)!!!! Come on, you spend more on unnecessary skincare stuff that don't even work than that amount.
Don't worry though, we got you covered. Get your fofo by clicking here.