Splurge vs. Save: Eco-friendly Shampoo Bars
One of the products rising in today's environmentally-woke market is the shampoo bar. With recent news about the horrors of plastic waste, many have been trying to reduce waste, to shift to reusable containers and cutleries, and to find alternatives to help lessen pollutants. Thus, the shampoo bar.
SPLURGE
It was specifically Lush Cosmetics' video on their naked shampoo bars which spread through various social media platforms that showed how one tiny bar of shampoo claimed that it could last up to 60 to 80 washes. Lush also offers shampoo bars for various hair problems (e.g. dry hair, hairfall control, oily scalp, damaged and treated hair, among others). Being an imported product in our country however, means that it does get a bit pricey (think averagely ₱495 per bar as compared to say, a large bottled shampoo for less than ₱400).
Lush Cosmetics Seanik Shampoo Bar for flat hair no more
Lush Cosmetics Jason and the Argan Oil Shampoo Bar for softer, shinier hair
Having colored and naturally curly hair, I bought and tested out Lush's shampoo bar in Jason and the Argan Oil. It smelled really good and could also work up a lather after just rubbing the bar directly onto my wet hair. The bar actually lasted for three weeks—this being that I shower twice a day and have very thick hair. Calculating this price versus regular shampoo in plastic bottle containers, I think it was worth the splurge since a normal large bottle of shampoo lasts me only two weeks. So, if you're like me with close-to-Merida's (see: Brave) giant locks, then this is a purchase that's definitely worth it!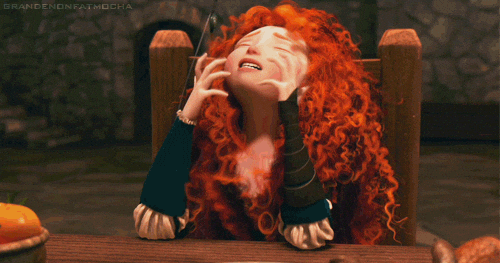 Giphy
Follow Lush Cosmetics Philippines on Facebook and Instagram.
STEAL
Being environmentally-conscious, I was also looking for a much rather affordable alternative, especially since I've noticed that most eco-friendly products out there tend to be more costly (I mean, hey, a plastic sachet of shampoo costs less than ₱30!). The closest I found to a more affordable product was Melusch Naturelle's shampoo bars.
Melusch Naturel Shampoo Bars, P 350
Currently, their shampoo bars are for normal to dry hair with only two scent options: Olive and Ginger. I found Melusch Naturelle's booth during a weekend bazaar at the East Wing of Shangri-la Mall and thus, I was able to test-run the Olive shampoo bar. At ₱350, the quality was surprisingly so much better than Lush's (maybe because it used more Filipina-hiyang ingredients like gugo).
Melusch Home Body Soul / Facebook
Also, though the shampoo bars available only offer two scents, this olive one really smells good. Nothing too strong nor "girly" — just basic clean and serene.
What I also noticed is that this bar gets very sudsy—which means it's bound to last longer if properly stored. I'm currently on my full month using the said product and it's still 1/4 thick from its original form. Just 3-5 lather on my palms (this time, I didn't directly lather it on my hair because it gets sudsy faster) and it can cover my medium-length hair for a good wash.
The shop mentions to producing conditioner bars as well (Lush also has these readily available throughout their branches). The only catch about Melusch Naturelle's shampoo bars is that at the moment, you have to find their bazaar schedules OR order online through their Instagram (@meluschnaturelle) as they don't supply to any physical store just yet. They do offer LBC shipping or, if you're in a rush, they ship through Lalamove as well. Restocking products takes about 2-3 weeks since the owner of the store is also the only one making the products, unlike Lush that restocks often and is easily available because of their store locations.
Melusch's Charcoal Body Soap with Fresh Bamboo Scent (Melusch Home Body Soul / Facebook)
All in all, whether you decide to SPLURGE or STEAL, I think what matters more is that many are becoming more aware of the need to reduce waste, to reuse materials, and to upcycle goods. Converting from plastic-bottled shampoo to shampoo bars is just one of the many baby steps we can take towards acting on pressing needs. Probably, a greater impact that could help convince people to switch to environment-friendly goods is if companies would make them more affordable, right?
Follow Melusch Home Body Soul on Facebook and Instagram.
*Post photo from Lush Japan.