The Super Effective Daily Skincare Routine I Do to Maintain My Finally Acne-free Skin
Looking back at how my 2017 was, I was counting down all of my achievements and realized that among all those life things, probably the most life changing was finally getting better skin.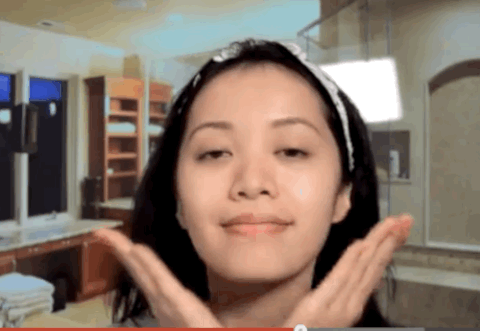 Giphy
Last year, I wrote about some things I pondered on while I was inside my dermatologist's clinic getting worked on and getting products for my severe acne problems. I must say it has been a truly huge milestone for me to finally lose my crazy acne breakouts even just after 3 months of going back and forth with facials, consultations, and skin care regimens.
*Before I move on, let me warn you that I posted a before and after photo of me here with really disgusting acne and let me tell you to back off now if you can't stomach that kind of thing. I swear I can't even handle seeing this photo but here it is for you, internet.*
I welcomed 2018 with a fresher face with minimal acne scarring that doesn't even need that thick layer of makeup to cover my imperfections.
The beauty gurus of YouTube are right - skincare is a journey where you'll end up trying many things and many products before you find the perfect ones and routine for you.
In less than a year, I went from having huge cystic acne with deep scarring, heavy makeup coverage, and low self-esteem to a smoother, better skin and a growing love and confidence with my face. Having derma treatments was expensive and of course I wouldn't want to look back and go through the same issues all over again so I found ways on how to better care for my face. I sure hope some of you gals sharing the same struggles with me went ahead and visited Dr. Laurel.
Here's some photos of my cheeks before and after the derma treatment and my current skincare routine.
Clearly, I'm wearing makeup on the after photo but this is very minimal makeup. Just thin layer of foundation and a pop of highlight to blind the haters. Either way, if you've been having crazy acne like me, you'd know for a fact that even your face with makeup wouldn't look so flawless.
Both photos are not filtered or treated or edited in any way so you can actually see the progress.
Let me share with you my current skincare routine that helps me maintain and further improve my skin condition. I started using these products around last September 2017 interchanging them until I came up with the routine that made my skin look best.
But before I do, I'd just like to remind you that obviously I am no expert in skincare and that the things I will be listing down are the actual products and methods I religiously use and do every single day. This routine will sound pretty brand loyal but this is not a sponsored post and I am paid in no way by these companies (I hope they do though, amirite?)
I'll break it down per routine so you can track it.
My 5-Step Morning Skincare Routine
While having my morning shower, I wash my face with Kiehl's Clearly Corrective Purifying Foam Cleanser. This jumpstarts my day. I love this cleanser because it is light and it leaves my skin feeling fresh and clean. At the back it says that despite being an American brand, the product is formulated for Asian skin. You only need a pea-sized amount so this big tube could probably last you for a year or more. I gently massage it over my face and leave it on for like, 3 seconds before rinsing it all out.
Kiehl's Clearly Corrective Purifying Foaming Cleanser (150ml), P 1,850
Before I rummage my closet for clothes, I go in front of my mirror and grab my COSRX AHA/BHA Clarifying Toner, the one with the spray thingy. I grab one square cotton pad and pump the product onto it 5 times. Dr. Laurel said you don't have to be rigorous with applying your toner. Just make sure your whole face gets some love including your jawline and maybe even going down to your neck. I love this product because it literally just feels like water and has a very mild to almost nothing scent.
COSRX AHA/BHA Clarifying Treatment Toner (150ml), on sale at BeautyMNL for P 657
I usually let that dry in front of a fan (cause I'm always rushing teehee). When I feel like it's completely dry or sometimes even a bit damp, I go ahead and grab my Kiehl's Iris Extract Activating Treatment Essence. The lady at Kiehl's said this product is a good catalyst for your serums to be more absorbed into your skin so I got it. I do 3 to 4 drops on my palm, rub it a bit on both hands, and massage it to my face. I love this product because it is not tacky, it feels light, and it looks like it's actually doing it's job.
Kiehl's Iris Extract Activating Essence Treatment (200ml), P 2,450
I let that dry a bit again and apply the COSRX Advanced Snail 96 Mucin Power Essence. I do 2 half pumps on one hand - one on my middle finger and another to my ring finger cause it's a bit slimy. But don't be fooled by this product. Again, this is very lightweight and your skin will feel so freaking prepped for the day.
COSRX Advanced Snail 96 Mucin Power Essence (100ml), on sale at BeautyMNL for P 873
Kiehl's Ultra Light Daily UV Defense SPF50 PA++++ (30ml), P 1,995
I let all of that dry before I do my makeup just to make sure that that last product is nicely absorbed by my skin.
My 6-Step Evening Routine
Once I'm rested upon getting home, I remove my day's makeup with Banila Co.'s Clean It Zero Resveratrol. It's this cute little pot of magic that turns from cream to oil once lathered onto your face. Now, don't be fooled when I say 'oil'. I have combination to oily skin but this thing works wonders for me. I only need to lightly scrape some product (with the little scooper they included in the thing) for like 3 to 5 times depending on how heavy my makeup was. I then massage it to my face and carefully over my eyes to remove mascara and eyeliner.
Banila Co. Clean It Zero Resveratrol (100ml), P 1,090
I intensely swear by this product. It will NOT make your face oil despite feeling oily on your face when applied. It removes all makeup and dirt leaving your face feeling clean. You can either remove it with a warm, damp cloth (which I sometimes do when I feel lazy. I use a little AquaZorb face towel) or rinse it off with water which is what I usually do. It's magic. Just trust me. Water washes it all off even without soap yet.
Then I head on to the bathroom for a shower and again, I use the Kiehl's Clearly Corrective Purifying Foam Cleanser. Same routine as the morning.
After I'm feeling all clean and fresh, I prep my face for the night starting with Kiehl's Clearly Corrective Clarity-Activating Toner. I grab a square cotton pad and do about 3 drops of the product. This is already enough for your face. Again, just making sure that your entire face is covered and wet.
Kiehl's Clearly Corrective Clarity Activating Toner (250ml), P 2,265
I let that dry completely or a bit damp then grab again my Kiehl's Iris Extract Activating Treatment Essence doing the same thing I did in the morning.
After that dries, I grab my COSRX Advanced Snail Power Essence again doing the same process.
And then I grab my Kiehl's Midnight Recovery Concentrate. Now, this little bottle of heaven is always sold out for a reason. I shake it before i use it, do 3 to 4 drops on my palm, rub it until its a bit warm, do a little sniff to relax my senses, and massage it gently to my face for as long as I want. It could take your haggard, no sleep face to waking up fresh as if you're not worrying about that long to-do list. I also love it cause it makes me feel like I'm going to sleep like a rich woman cause its smell reminds me of rich people.
Kiehl's Midnight Recovery Concentrate (30ml), P 2,895
That's it and I'm ready for bed!
I treated my deep acne scars with dermarolling and I'll tell you about that on a separate post. Let me know what you think about my routine and also share yours! We'd love to hear your thoughts.