Get Selfie-Ready with Our Top Concealer Faves
Sometimes, concealers are more important than foundations. Concealer can hide blemishes and imperfections. For girls and women, it's just concealer, lipstick and brow products most days.
Concealer is also easy to apply. Just use a brush, sponge or Beautyblender to sweep the product under your eyes and wherever it is needed. Note: If you're using concealer under your eyes, apply eye cream first. Then, wait a few minutes.
Remember that less is more; you can always build up the coverage. Set the concealer with translucent loose powder to avoid caking.
Here's a tip I picked up from Wayne Goss: To avoid creasing, after applying concealer and setting it in powder, dab the concealed areas with a wet sponge.
Here are our top picks:
This concealer comes in only six shades but they're mostly yellow-based (perfect for Pinays!). It's easy to blend and is full coverage. Don't tell anyone but boi-ing has some surprises for us next month.
Benefit Cosmetics Boi-ing Full Coverage Concealer (P 1,100), available in all Benefit Cosmetics stores and kiosks and at Sephora
Strictly speaking, this isn't a concealer but "a multi-use radiance booster that instantly brightens, smooths, and perfects while letting your own skin come through for a beautiful, natural glow." What's important is, Touche Eclat gets the job done. This is HG material for many makeup artists and beauty enthusiasts.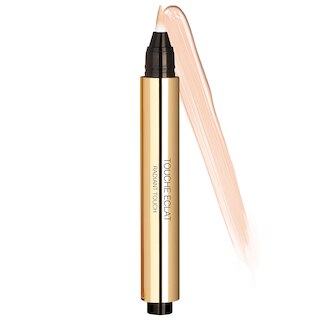 Yves Saint Laurent Touche Eclat Radiance Perfecting Pen ($42), available at Sephora
This concealer from a Filipino brand, which costs less than Php400, is the best for blemishes. Once applied, it doesn't budge unless you're ready to take it off with cleansing oil and/or micellar water.
Pink Sugar Cosmetics Our Lil' Secret Concealer (P 349), available in all Pink Sugar kiosks and at BeautyMNL