Peek Inside The 2017 Must-Haves in Our Bag
Here in Upsize, the holidays just ain't over yet.
We've celebrated and welcomed the year with delectable food and delicious drinks dolled up in the best outfit (of course). But this time, because we believe that everything in life should be upsized the way we best deserve it, we're also packing up on our glam.
Every start should be done right which is why we've put together our very own perfect beauty staples to kick off 2017 right!
Clean and Clear Oil Absorbing Sheets in Pink Grapefruit
tobisabs.blogspot.com
Clean & Clear has produced great oil control products ever since we knew about this brand but their oil absorbing sheets just steals the show. They have this in blue too, which is kind of like their classic type. We love their oil sheets in pink grapefruit because not only does it clear your skin of oil, it makes you smell good too!
We've been using this product for years which is why we're taking it once more to another year of oil free-ness!
Grab your own Clean & Clear Oil Absorbing Sheet in Pink Grapefruit at any Watsons, Mercury Drug, or your nearest department store.
Sanicare Wet Wipes with Aloe Vera
mommyfleur.com
We like feeling fresh and smelling good all the time which is why we think wet wipes are a bag staple. We've discovered the Sanicare Cleansing Wipes with Aloe Vera and Vitamin E late last year and haven't let go of it since then!
These babies are very gentle to your skin and do not easily dry out. Plus, it really smells great! Perfect for the warm Manila weather!
You can get yours at any supermarket, Watsons, or department store.
Mentos Pure Fresh Sugarfree Mints in Spearmint
mentos.com.ph
Did we mention we like staying fresh? We're starting the year right by keeping these inside our kits. We love these because they taste great, not too strong, and have a really cute tin packaging! With these mints, we're ready for any chismis!
Get yours too from the nearest supermarket and convenience stores!
Mac Cosmetics Pro Longwear Pressed Powder
paintingyoupretty.com
This year, we promised ourselves we want to look good and feel good all the time so we're keeping this awesome, indisputable beauty must-have on our kits. What we love about this powder is that it really holds our look together because it mattifies our skin. And it comes in a great range of shades, perfect for our girls!
Have your own compact from Mac Cosmetics stores. Make sure you get the legit ones!
Mac Cosmetics Nutcracker Sweet Basic Brush Kit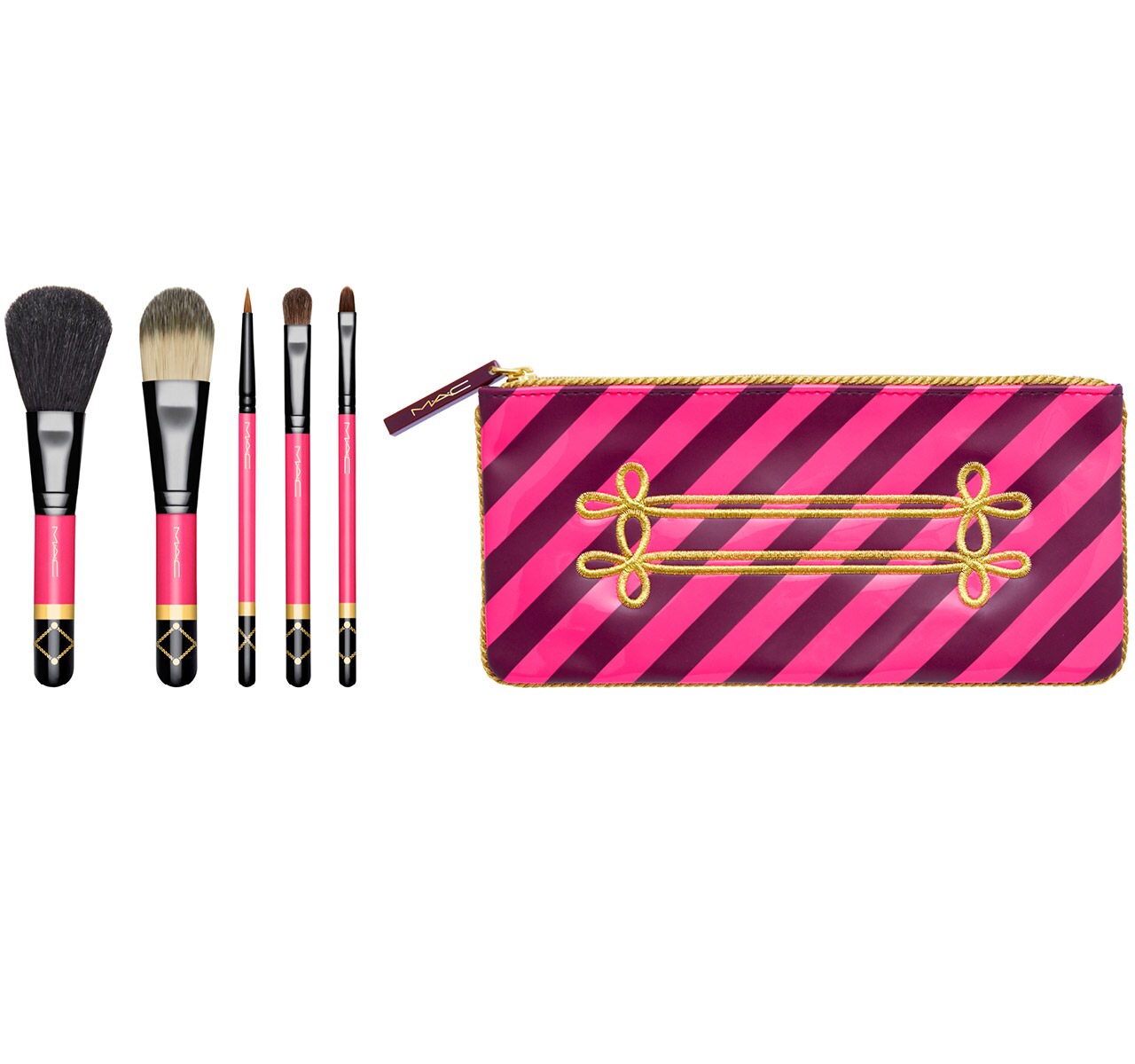 maccosmetics.com
This one is definitely a newcomer. Mac Cosmetics' Nutcracker Sweet collection is already getting on our skin but this basic brush set is most definitely one of our FAVORITE THINGS. Cute, travel sized brushes ready to take on beauty battles that fit into such a pretty pouch - it's always a holiday to put our faces on!
Have your own compact from Mac Cosmetics stores. Or remember that we love this piece and submit correct answers on our Upsize Favorite Things and you might get a chance to win yours too!
Milani Cosmetics Liquid Lipstick in Precious
jadagram.com
Color on our lips make our whole face look awake which is why we love having Milani's Amore Matte Lip Creme in Precious in our bags. Just the right subtle pink with a bit of brown undertone makes that almost nudish pink color that looks very natural on any skin tone. Like, we totally woke up like that (not, though).
Check out Milani Cosmetics' site for more amazing shades!
Starbucks Acrylic Tumbler
store.starbucks.co.uk
This year, we promised to keep ourselves hydrated all the time. And naturally, we want to do that in style. Starbucks' Acrylic Badge Tumblers make that happen for us. We adore their fashionable and cute designs that make drinking water (and coffee) fun!
What we love more about these tumblers is that it fits a grande drink and if you have your drink served in one of these, you get a 5-peso discount from your drink! Super cool and super ecofriendly.
Choose yours from any Starbucks!
Take notes if you'd like some of the pieces we'd put in here! Let us know what you have in your bag too.