She Talks Asia Opens Tribe Meet Up to Celebrate Women of Science
We take pride in coming out with articles designed to empower women in all aspects of their lives - personal relationships to progress in career. Whether it's science or beauty, we believe that women have what it takes to be leaders in whatever field they wish to grow.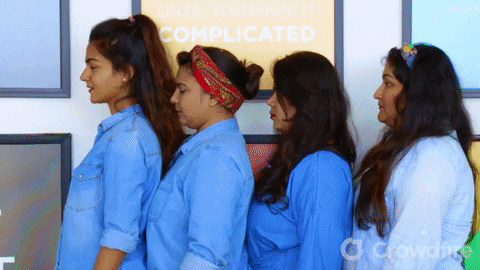 Giphy
"We are so excited and proud to launch our first Tribe Meet-Up with L'Oreal Philippines. We have created our own tight-knit community that wholly believes that women have the power to change the world. This beautiful partnership raises awareness and educates the larger community to help break barriers that discourage women today from entering or pursuing a career in an overwhelmingly-masculine field of STEM," shares Sarah Meier, CEO of She Talks Asia.
Seated on the panel were inspiring industry professionals:
Carmel Valencia, L'Oréal Philippines Corporate Communications Manager - Leading the Company's advocacies both in beauty and in science, Valencia continues to promote and spearheads gender equality in science and business through her For Women in Science in the Philippines program.
Alex Suarez, Country Lead of Bumble Philippines - With her solid experience through car sharing apps Grab and Uber, it can be said that Suarez has what it takes to advocate for women in tech. As the Philippine lead of dating app Bumble, Suarez helps promote a safer and women-empowered online dating.
Dr. Geraldine Zamora, Rheumatologist and Founder of the Lupus Bridging Fund - For her life-changing work in the Sagip Buhay Medical Foundation and for founding the Lupus Bridging Fund, Zamora was an awardee for Medicine of the TOYM.
Dr. Maricor "Jing" Soriano, Physicist at the National Institute of Physics at the University of the Philippines and a TOWNS Awardee - Focusing on developing low-cost technology solutions, Soriano is a multi-awarded physicist at the University of the Philippines Diliman.
The panel discussion took a deep dive on how to succeed in a masculine-led field and how to establish then build that ladder for Filipinas to be more open about succeeding in their respective careers.
"It was powerful to see how L'Oréal Philippines and She Talks Asia came together for this #STEMSisterhood event. Through this initiative, we hope to reach as many girls and women to spread awareness and shed light on various challenges women face today, and to educate others on how we can collectively support talented females throughout their careers in the Sciences," said Carmel Valencia, L'Oreal Philippines Corporate Communications Manager. "By taking this extra leap, we want to ensure that research in every field takes full advantage of the intelligence, creativity, and passion of women. Over the last twenty years, our global For Women In Science advocacy has allowed us to impart the important message that the world needs science, and science needs women because women in science have the power to change the world."