The Loud Call of Silence: 'A Quiet Place' Movie Review
Footsteps running through an abandoned retail store make for a typical start of horror film, yet a few minutes in and you'll understand what makes John Krasinki's "A Quiet Place" a must-watch.
Like any horror film I love, A Quiet Place is as terrifying as it is heartwarming.
The King of Horror himself stated how much he likes Krasinki's execution of silence to highlight the horror aspect of the movie. Stephen King is known to write reviews in this genre. Who could forget his scathing criticism of Stanley Kubrick's The Shining?
A QUIET PLACE is an extraordinary piece of work. Terrific acting, but the main thing is the SILENCE, and how it makes the camera's eye open wide in a way few movies manage.

— Stephen King (@StephenKing) April 6, 2018
One of the key tricks writers and directors employ into making the audience love their movies is to create a character that is worth rooting for. The five-member family of Lee and Evelyn Abbott (played by real-life couple John Krasinki and Emily Blunt) gracefully executed a horror movie that transcends jump scares and scenes shot at night.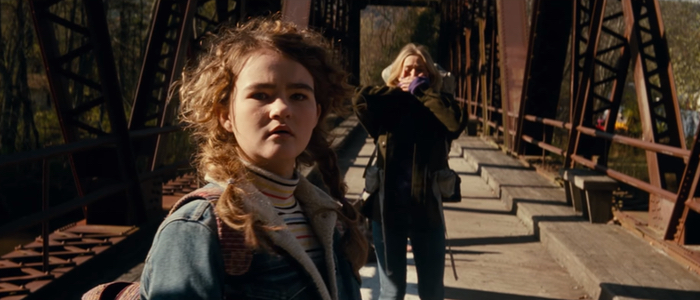 Slash Film
Oddly enough, Krasinki's A Quiet Place reminds me of cinematic masterpiece Dunkirk where the minimal dialogue played a crucial part in conveying the message of the film.
The film's two-minute trailer told us that it would be a great horror movie, but it did not say how love for family encapsulated the essence of the film.
Nerdist
MovieStillsDB
If you're still wondering whether you should catch A Quiet Place in the big screen, here are three reasons that might make you stand up away from the couch and Netflix.
1. It's a family movie.
At R-13, probably not in the sense that everyone in your family can watch it. The core of the movie, says Krasinki, is rooted in the essence of "parenthood and how far we are willing to protect our kids." It may be surprising, but this movie can make you shed a few tears.
Paramount Pictures
2. Amazing acting
They were rarely called by their names, but deaf daughter Regan and Marcus (played by deaf actor Millicent Simmonds and Noah Jupe) are terrific in the movie. Without the dialogue and the sound to amplify the emotions of the scenes, it says a lot about the actors who were able to make their audience feel.
Dave the Novelist
Not to mention Emily Blunt's amazing performance that made us truly remember a mother's caring and protective love for her family.
Hudson Valley Magazine
3. Stunning setting
Shot in upstate New York during the autumn season, the set design is also something to rave about. Complemented by excellent sound direction, the cinematography of the movie is suited for big screen watch.
Trailer Addict
Make sure you catch A Quiet Place still showing on theatres everywhere.