Mediheal Breaks Beauty Stereotypes by Introducing their Collaboration with K-Pop Group BTS
Let's get one thing straight before we start: Beauty standards in Korea are so much more different than the usual in the rest of the world. And as much as we love talking about what's good for women and what women want, we'd like to take this story to highlight how Mediheal is breaking ground.
Melon & Starfish
Korean-brand Mediheal recently launched in the country. Along with its launch is the official Philippine introduction to their ~apparently~ massive collaboration with K-Pop All-Male group, BTS.
I probably live under a rock because until I heard about this collab, I never actually knew anything about BTS. At first glance, they look like the typical Korean boy band - effeminate looks, bold colors, crazy dance steps, etc. Not until then did my western-influenced ass realize they're one of the biggest K-pop groups in the world and are actually hitting charts.
Metro UK
Mediheal, on the other hand, I have heard of. I love beauty. I love exploring and writing about beauty products so having this brand in the Philippines even made me so excited however, I was truly surprised and became equally excited to know that the number 1 global mask pack is working in collaboration with BTS.
Jaem in Seoul
Here's the thing: Korean beauty is very distinct from other countries simply because they're more open to men wearing makeup and doing skincare. I strongly believe that men can do whatever the hell they want and that representation matters. In the world of beauty and vanity where males in general are shamed and called out for simply taking good care of themselves, this matters.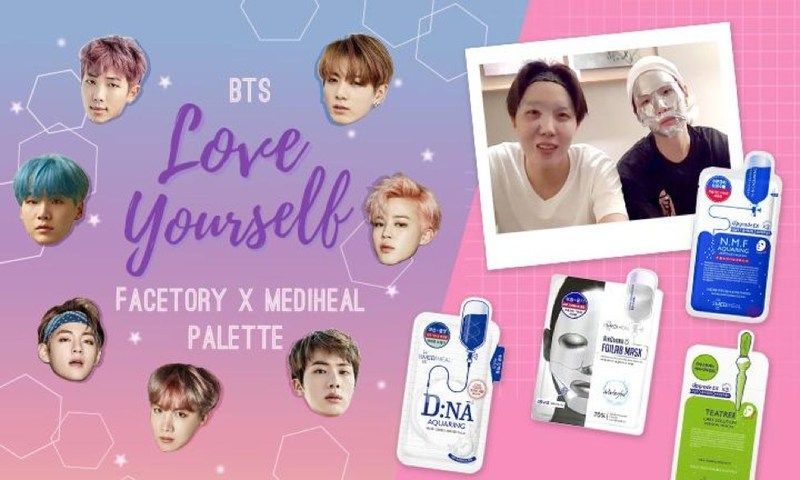 Amino Apps
It worth commending that a strong brand like Mediheal partners with some of the most influential people in the world because of the impact it could bring to their audience. As much as women are expected to work hard in grooming ourselves and making sure we're always 'pretty', men should also be okay with caring for their skin and making sure they look good and fresh.
The Mediheal x BTS collaboration may be targeted to fans but it doesn't alienate the power of putting men in front. Bringing this - the collaboration and the Korean beauty principle - to the Philippine market where usually men are called out as 'gay' or 'vain' when they take care of themselves, I'm personally hoping this changes the game as much as it could change the industry.
The Mediheal x BTS collaboration has 4 care packs with 10 mask packs inside each - hydrating, brightening, moisturizing, and soothing. Each box retails at P 1,250 and are exclusively available in Watsons stores and SM Beauty stores nationwide.