A Friendly Guide to What You Should Order When Shake Shack Comes to Manila in 2019
U.S. famous burger joint, Shake Shack, has literally left netizens shookethest after announcing that they're finally coming to Manila early 2019! They revealed the exciting news in a tweet:
Mabuhay, Manila! Pack the Jeepney - we're officially headed to the Philippines! 🙌 We can't wait to shack up in the Pearl of the Orient in spring 2019. 🇵🇭 pic.twitter.com/DWuegylSk5

— SHAKE SHACK (@shakeshack) July 17, 2018
Prior to this revelation, luxury firm SSI Group Inc. has been negotiating with Shake Shack to expand in Southeast Asia. SSI President Anton Huang have also shared his excitement in an instagram post saying, "We're Shackin Up in Manila! Get ready to taste the goods as SSI Group brings the Shake Shack to the Philippines!"
To fuel your excitement even more, why don't we lay down to you the food you can order once Shake Shack hits Philippine market.
1. ShackBurger
Tasting Table
The classic single or double Cheeseburger topped with lettuce, tomato, and ShackSauce.
2. Chick'n Shack
Shake Shack
Crispy chicken breast with lettuce, pickles, and buttermilk herb mayo.
3. Shack-cago Dog
Shake Shack
Shake Shack's signature Flat-top Dogs dragged through the garden with Rick's Picks Shack relish, onion, cucumber, pickle, tomato, sport pepper, celery, salt, and mustard.
4. Cheese Fries
Pinterest
Not your ordinary fries, this one is topped with Shake Shack's special blend of cheddar and American cheese sauce.
5. Frozen Custard
This dense, rich, and creamy frozen custard will definitely take you to heavens. This is also guilt-free, they only use real sugar, no corn syrup, and milk from dairy farmers who pledge not to use artificial growth hormones. There's more. The fudge and caramel sauce they use have zero shelf-life lengtheners.
Shake Shack
6. Shack-made Lemonade
Complete your Shake Shack experience with their famous Lemonade. This sweetened drink is filled with Shack-made simple syrup.
Shake Shack / Tumblr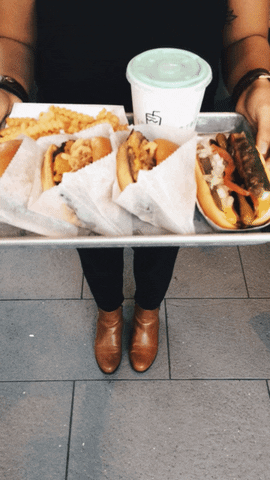 Giphy