Steaks You Can Binge On for the Holidays If You're On a Keto Diet
The holidays are fast approaching with parties and reunions lined up one after the other. With the popularity of the Ketogenic Diet where 75% of one's meal consists of fat (or protein), the newly converted can look forward to feasting on steak, fried chicken and roast suckling pig to their heart's content.
Sugar in any form (bread, pasta, rice, cakes, pastries and ice cream) is a no-no but people who have tried the protein-centric diet say that they never feel "hangry". If you're looking for places to indulge, here are three to try.
They brought back their Champagne & Tapas Buffet for two weeks only, December 4-8 and December 11-15. For P 1,800 per person, guests can have their fill of Jamon Serrano and Roasted US Beef Belly. The spread also includes a pasta and a couple of open-faced, bite-size sandwiches but you can always eat the toppings and steer clear of the bread.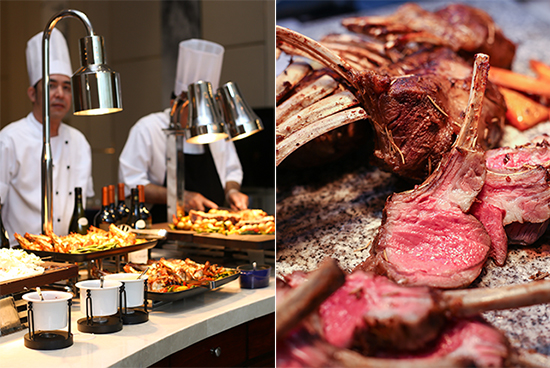 Summit Media
Aside from the bubbly Jean Vesselle Brut Reserve, there are local beers, chilled juices, sodas and cocktails to choose from.
Mae Paner, more popularly known as Juana Change, said that she lost 100 lbs. on the diet which allows the consumption of alcoholic beverages. I recommend checking first with your doctor
Call +632-317-0999 loc. 114 or email dine@makatidiamond.com
The main draw at Hogs & Cattle at the ground floor of Century City Mall is the unlimited wagyu beef and prawns priced at P899. The meal includes cream soup, mini rolls, and a choice of rice or mashed potato. Skip all that and just stick to the grilled prawns and wagyu cooked to your liking. The wagyu at Hogs & Cattle tends to be fatty but then again, if you're on Keto, that's fine.
Hogs & Cattle Steakhouse / Facebook
Snackaroo
For cheap thrills, there's always Snackaroo (Judge Jimenez Street, QC) with its no-frills steak. If you're feeling peckish, order two steaks that will set you back less than P300 but ask them to hold the gravy. That's what I always do.
Eat and Wander