My 18-Course Sunday Brunch at Hutong: An Upsized Experience of Hong Kong
Our recent trip to Hong Kong was a dining experience to remember. We got to sample inexpensive but tasty dishes as well as high-end fare that catered to tourists in the span of four days.
I still dream about the fried porkchops served over rice with a side of curry at a small eatery in Wan Chai district.
On our last day, our host took us to Hutong in Tsim Sha Tsui. The 180-degree view of Hong Kong island is one of the restaurant's main features but the food is also worth the price.
We all opted for the Sunday lunch promo that consists of 18 dishes from appetizers and dimsum to hot dishes and dessert, all served at the table. This set-up is more customer-friendly compared to a buffet because it allows guests to chat with each other and admire the view instead of standing up every now and then to get more food.
Customers can order unlimited champagne but I think the best beverage to wash down Chinese food is a cold Coke.
Course 1: Chicken with Glass Noodles Marinated in Sichuan Chili Sauce
Spot the Food
Course 2: Seared Foie Gras with Osmanthus-Smoked Coddled Egg
Spot the Food
Course 3: Sliced Squid with Freshly Grated Wasabi
Spot the Food
Course 4: Cucumber Salad in Garlic-Pepper Sauce
Pictures first needed to be taken and images posted on Instagram and Facebook before we could dig in. The same thing would happen three more times during the meal. In hindsight, this was a good thing because it allowed us to pace ourselves.
Next came five types of dimsum.
Course 5: Poached Boston Lobster Wonton
Spot the Food
Course 6: Steamed Matsutake Mushroom Bao
Spot the Food
Course 7: Steamed Siu Mai Topped with Scallop and Crab Roe
Spot the Food
Course 8: Chicken and Grated Ginger Pan-Fried Dumplings
Spot the Food
Course 9: Spring Rolls Filled with Shrimp, Kimchi and Mozzarella
The hot dishes in this particular menu at Hutong come from Northern China and included
Course 10: Kung Pao French Cod Fillet with Cashew Nuts
Spot the Food
Course 11: Red Lantern Crispy Soft Shell Crab with Sichuan Dried Chili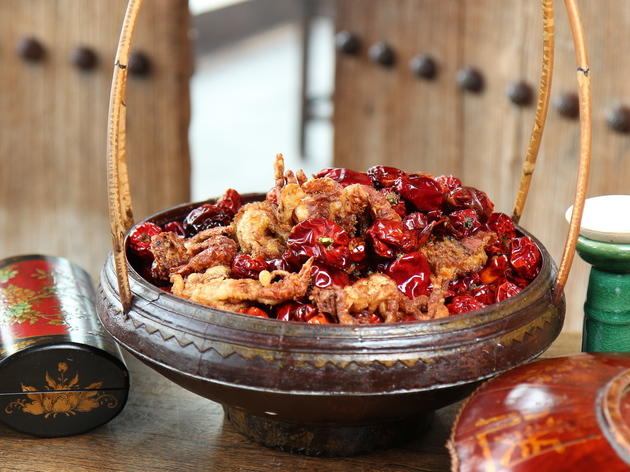 Hutong Blog
Course 12: Chicken Breast Braised with Shallots and Black Bean
Course 13: 12-hour Braised Beef Rib with Aromatic Herbs in a Lotus Leaf
Spot the Food
Course 14: Seasonal Veggies Stir-Fried with Garlic
If you think that's a lot of food, it was - and we still hadn't been served dessert.
Spot the Food
Course 15: Crispy Glutinous Rice Dumpling with Chocolate
Course 16: Steamed Bao Brushed with Gold and Filled with Egg Yolk Custard
Course 17: Homemade Ice Cream
TripAdvisor
Course 18: A Matcha Tea Rice Ball Filled with Yam
The feast, because that's what it was, is priced at HK$428 (drinks are extra). It's worth trying at least once, and the view is superb.
Hutong is at 28/F, One Peking Road, Tsim Sha Tsui, Kowloon, Hong Kong. Call 852-34288342.