Thoughts on #UpstartSpamalot: Upsize Your Life with (More) Musical Theater
Just in case you are in the loop, you have probably heard that The Lion King is making waves in Resorts World Manila, while shows like Sa Wakas and Ang Huling El Bimbo musical – respectively using songs from the repertoire of renowned (yet now defunct) OPM bands Sugarfree and Eraserheads – have been in the ropes.
A call for audition has also hit our Facebook feeds as the successful runs of PETA's Rak of Aegis compel the need to scout for more promising artists. Incredible forte is what we have here in the Philippines, yet we sometimes often stick to Korean Dramas like they are the only ones worth our priceless gaze.
Well, I've got Two Words (tee-hee, get it?) for everyone: Lea Salonga.
It's the 21st century, people, and more should upsize their lives with more musical theater, lest the ghosts of Euripides, Aristophanes, and all our Greek progenitors come back and let us know that at the heart of all the TV series we consume is the art of drama. Never forget these roots, and that there is more to life than movies, Netflix, and fake news. More and more theater companies are even opening their doors to musical workshops, because if there's one thing Filipinos wouldn't run out of, it's probably #TALENT (and we're hashtag blessed that way, says Bruno Mars who apparently share our same talented Pinoy bloodline).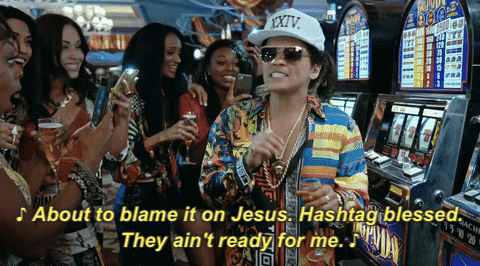 Giphy
Upstart Production
1. Wit and music, when combined, is a delightful recipe for joy.
While we all had our share of not crying for Argentina through Evita or rooting for Kim in Miss Saigon, it's refreshing to watch musicals that draw strength from laughter. If you think Friends is funny enough, wait 'til you see a bunch for grown-up guys and girls gallop and dance on-stage!
2. Spamalot reminds us that behind every successful man is a woman (in this case, a Lady of the Lake) that equips him with the tools he needs.
Harry had Hermione, Clark Kent had Lois Lane, Luke Skywalker had her sister Princess Leia. King Arthur has a Lady in the Lake in this show, who not only gives him his famed sword Excalibur, but also belts out a range of songs that would shame any self-proclaimed Karaoke Queen. Besides, her wisdom about conquests and relationships are to die for, too!
3. Just because a work is a work of comedy does not mean it lacks substance.
Expose yourself to good comedy! Spamalot offers a wide range of jokes ranging from social commentary on government forms, gender sensitivity, and probably even depression and isolation (if you have a keen eye, that is). The songs and exchange of lines, while humorous, have more than what meets the eye. It has witty remarks on song production, leadership styles, and even "oddities" such as the French language.
Mars Callo / Facebook
Don't think it's just one of those "boring" period dramas – they've got their Bieber on, too. (Watch the show to find out!) Indeed, watching musicals is a good way to expose one's self to intelligent banter.
4. If watching movies and series already knock your socks off, wait 'til you see live playing, live singing, live acting – there's a reason why ALIVE is spelled with "LIVE".
There is no Autotune, no lip-syncing, and no editing with musical theater. What you see is what you get. Revel in pure, unadulterated aptitude as you watch the cast switch from one role to another, and own it with their singing and acting skills. Delight as you watch the conductor flick his baton while the magic happens onstage. This is what it means to be alive: sometimes, it's good to have things happen before your eyes than have them "canned".
Reb Atadero / Facebook
Catch Spamalot and its remaining shows, or better yet, get those tickets for other musicals that our very own production companies have in store. Trust in what the Lady of the Lake says: "If you trust in your soul, keep your eyes on the goal. Then the prize you won't fail, That's your grail. Find your grail!"
Make musical theater part of your grail (and your growth).