Amazing Things You Will See When You Upgrade Your Phone to iOS 11 (for the Easily Amazed aka Us)
Old iPhone users unite! We've been blessed with a new iOS upgrade that would make your phone look like the latest models they released for a much cheaper price.
The iOS 11 is now available for download and installation for users in the Philippines. We expect that somehow you've already researched your curious butt away with what the iOS11 packs so if you find yourself debating on whether you should upgrade or be inevitably envious of your friends' update, don't worry - we've done it for ourselves and we're sharing with you some of the things you should expect with the iOS 11.
We will be focusing on the new things this update has for phones cause we don't think we all got iPads anyway.
Before we begin with the details, see if your current phone model can support the new iOS update:
iPhone X
iPhone 8
iPhone 8 Plus
iPhone 7
iPhone 7 Plus
iPhone 6s
iPhone 6s Plus
iPhone 6
iPhone 6 Plus
iPhone SE
iPhone 5s
If you're included in the list, that's great! The update is around 2GB and would require that you have at least 4GB of free storage space. With that, let's begin!
These screenshots are from our actual iPhone 7 Plus cause yes, we were tempted to get the new iPhones as well but whatever. Feel free to judge away.
The famous new control center
Every article on the iOS 11 boasts of the control center's new look. Gone are the days when this tab only goes a bit more than halfway your screen. Now it covers your entire phone making it look undeniably large too (not sure why we said that).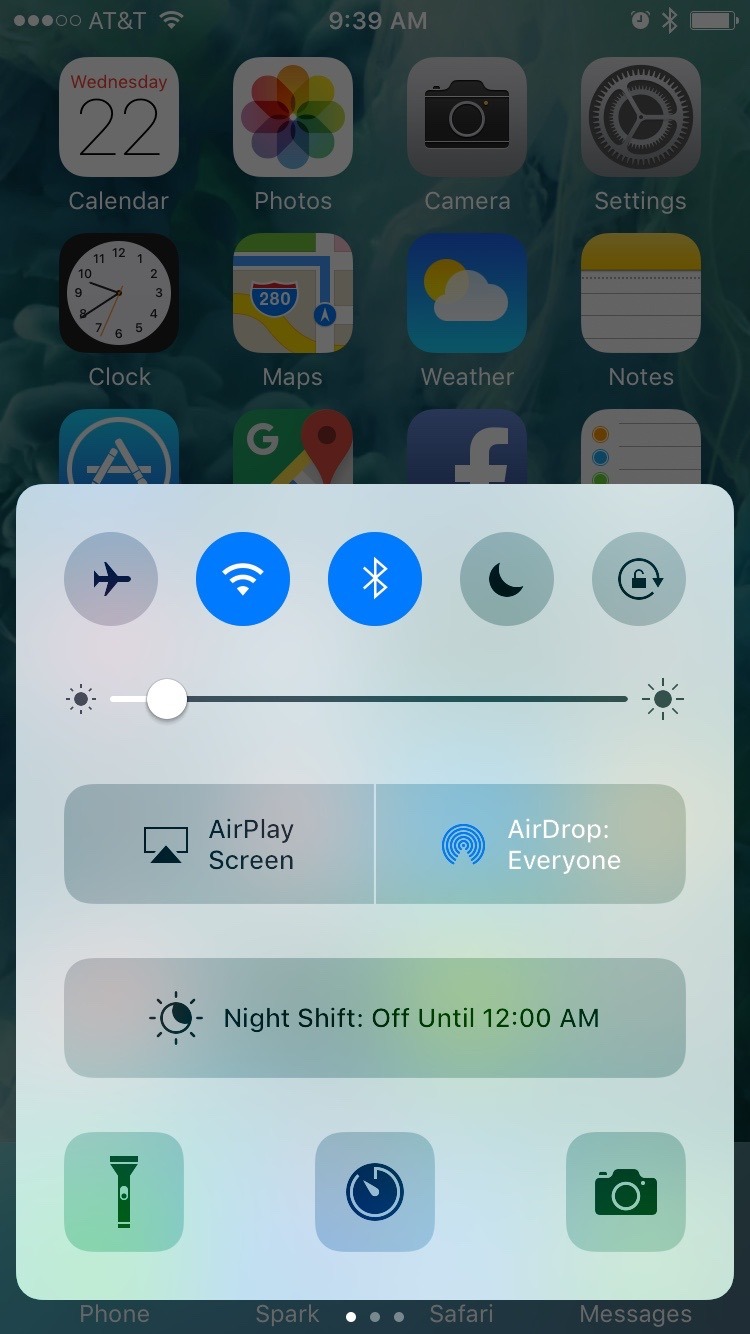 Throwback to iOS 10's control center look
We found that this version of the control center requires us to use the 3D touch so we're not entirely sure how this would go for an iPhone that doesn't have this feature.
To customize your control center, simply go to Settings > Control Center > Customize Options.
Very android-y if you ask us.
Lock Screen
This is how your lock screen will look like now. First thing we noticed about the new update is the bolder font. The signal bars are actually bars now and no longer cute little circles.
The drag-down notifications thingy
We don't know what this is called but you know when you pull down from the top of your screen to see the notifications? This is what it looks like now. Your wallpaper matters now cause you see it basically everywhere.
Widget window
Alright so after you drag down and see your notifs you swipe right and find this window of widgets. This is what it looks like now - kinda the same cause we have so much widgets but the wallpaper's still peeping there.
New Icons, Files, Label-less
As we have mentioned, there is a noticeable change in the font on the iOS 11. That and the labels for the bottom icons are no longer there.
Also included in the update is a "Files" folder where you can now see all the files on your phone and sync them through iCloud. Again, very android-y.
Take a peek at the Calculator and App Store icons looks too!
Albums
It basically looks the same except for that massive label on the top so you don't forget where you are. From first look, this is exactly how Apple Music looks like prior to the update. They probably thought of having a uniform look throughout all the apps and patterned it after Apple Music's.
You can also bring life to your Live Photos with new editing options to loop, bounce, or do long exposure.
Wallpapers for your iPhone and Apple Watch
Got an Apple Watch? You can now opt to use a photo as your watch face!
There are also a collection of brightly colored new wallpapers for you to choose from in case you're into that.
Everybody's got grandma's font now.
The New Look of Safari
Rounded edges on the url box and all.
Update on Notes and Calendar
A fresh look on the keypad
Same look as on the lock screen
Recent calls now look like this
App & Website Passwords are now stored and accessible so you don't have to remember about remembering them!
You can set an Emergency SOS for your lock screen
Screencaps now look like this
You basically click the same buttons (power and home) and the screencap will appear on the lower left of your screen. You click that and this appears! Edit on the spot or delete if you don't want it or send on the spot without actually saving it on your phone.
Texting and sharing with fellow iOS users can now be much funner with the new stickers and gifs tabs made more accessible
iOS 11 is a heavy update but it surely does pack a punch. There are more new looks and new helpful things you can do on your phone like offload unused apps for when you're low on storage.
We can't even list down all the things but if you want to read more about it, check out these articles from TechCrunch, MacRumors, and The Verge.
FINAL VERDICT: So should you or should you not update your phone to iOS 11?
Totally should. This is a whole new iOS and we should expect all other apps to follow suit with the update to stay compatible with your OS. So far we're finding the new features helpful and easy to use. Plus, it looks really awesome and gives your old iPhone that new phone feel.
Even the battery looks different and the motion of the user interface is more animated. Everything goes everywhere and makes your phone look like a bunch of fun!
Update is quick for as long as you have a minimum of 80% battery life and a strong Wi-Fi connection! Hit that Download and Install button now!
In the meantime, we'll see how this update works with the battery.